Future Business Leaders Event Series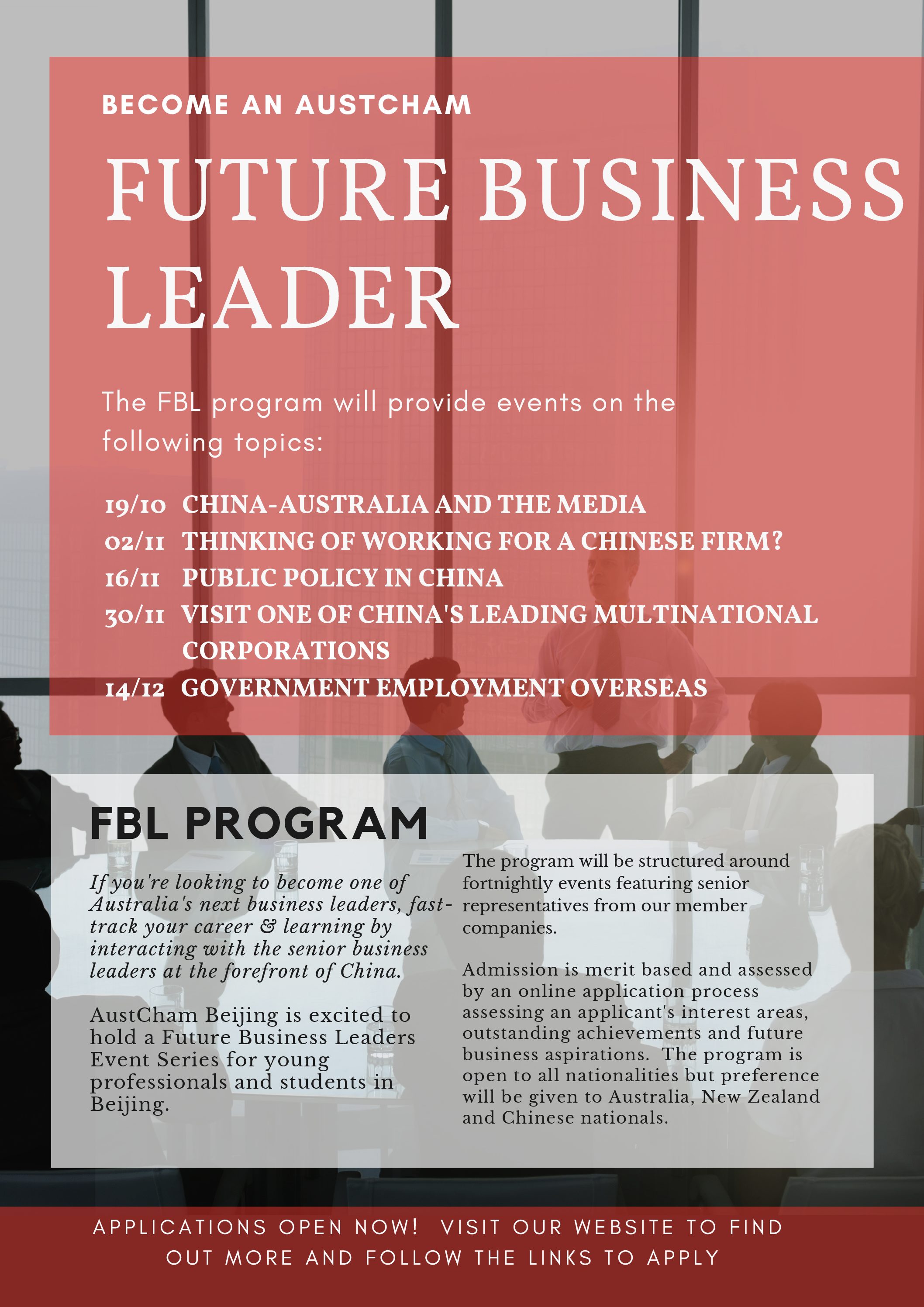 AustCham has launched our Future Business Leaders Program, an elite career-development event series operating in cooperation with Australia-China business leaders from AustCham member companies.
The purpose of the program is to prepare Australia's young future business leaders with the skills and experience necessary to thrive in the changing global marketplace. Through engagement with business professionals, successful applicants will gain an insight into the opportunities and challenges of doing business in modern China.
In 2018, AustCham Beijing is holding a Future Business Leaders Event Series for young professionals and students in Beijing, and inviting AustCham member company representatives to share their experience and connect with emerging talent.
AustCham will be hosting fortnightly presentations featuring senior representatives from our member companies. We encourage all to apply and arm yourself with the insights, skills, as well as contacts to thrive in China.
We have selected 20 outstanding young professionals to participate in the program.
Membership:  500 RMB, which covers the program and also includes free admission into all AustCham Beijing events held at our Events Space!
19th October – China-Australia and the Media |  ABC's China correspondent, Bill Birtles will discuss the impact of the media on the current China-Australia relationship.
2nd November – Getting Serious about Cultural Diplomacy | Thinking of becoming a foreign diplomat?  Come and hear all about the experience of an Australian Embassy employee living and working in China.
16th November – Public Policy in China | A number of panelists across different industries will discuss recent developments in China's public policy.
30th November – Visit One of China's Leading Multinational Corporations | Come for a tour around one of China's booming tech companies!
16th December – Thinking of Working for a Chinese Firm? | Join us for a panel discussion with a number of Australian professionals working for Chinese firms, to hear all about company cultures and how they operate.