Post-Event Update | The Evolution of Blockchain in China
10-17-18 @ 4:30 pm

-

6:00 pm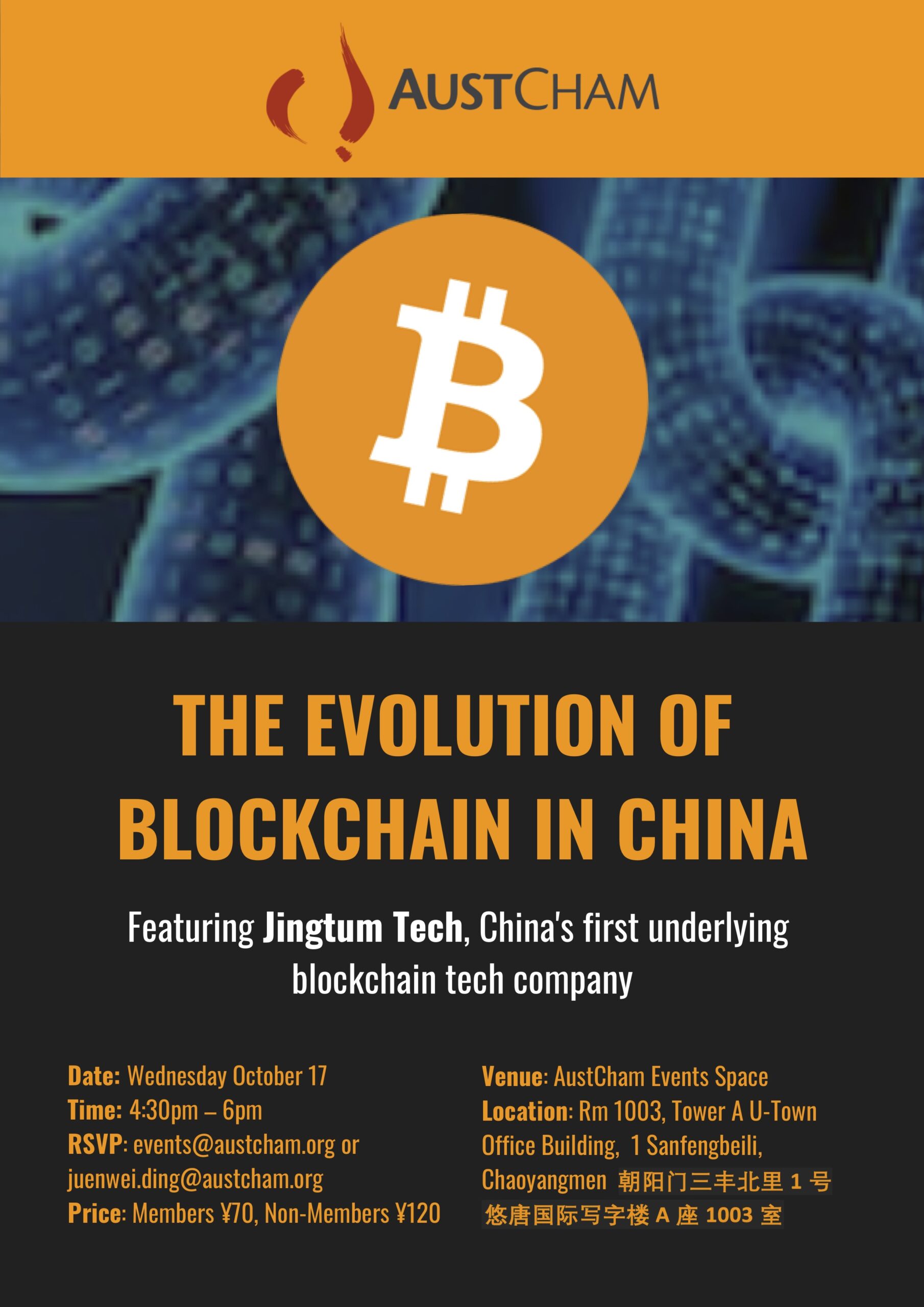 Last week, AustCham Beijing hosted "The Evolution of Blockchain in China".
A huge thank you to our special guest speaker, Grace Chen from Jingtum Tech, who gave an engaging presentation that covered blockchain related topics including: Etherum, Ripple, discussing the Pros and Cons of different types of Blockchain. Most interesting was the discussion of Blockchain in the Chinese market and its applications, notably for digital Fapiaos. Following the presentation, the audience participated in an engaging Q&A and afterwards enjoyed networking and some refreshments.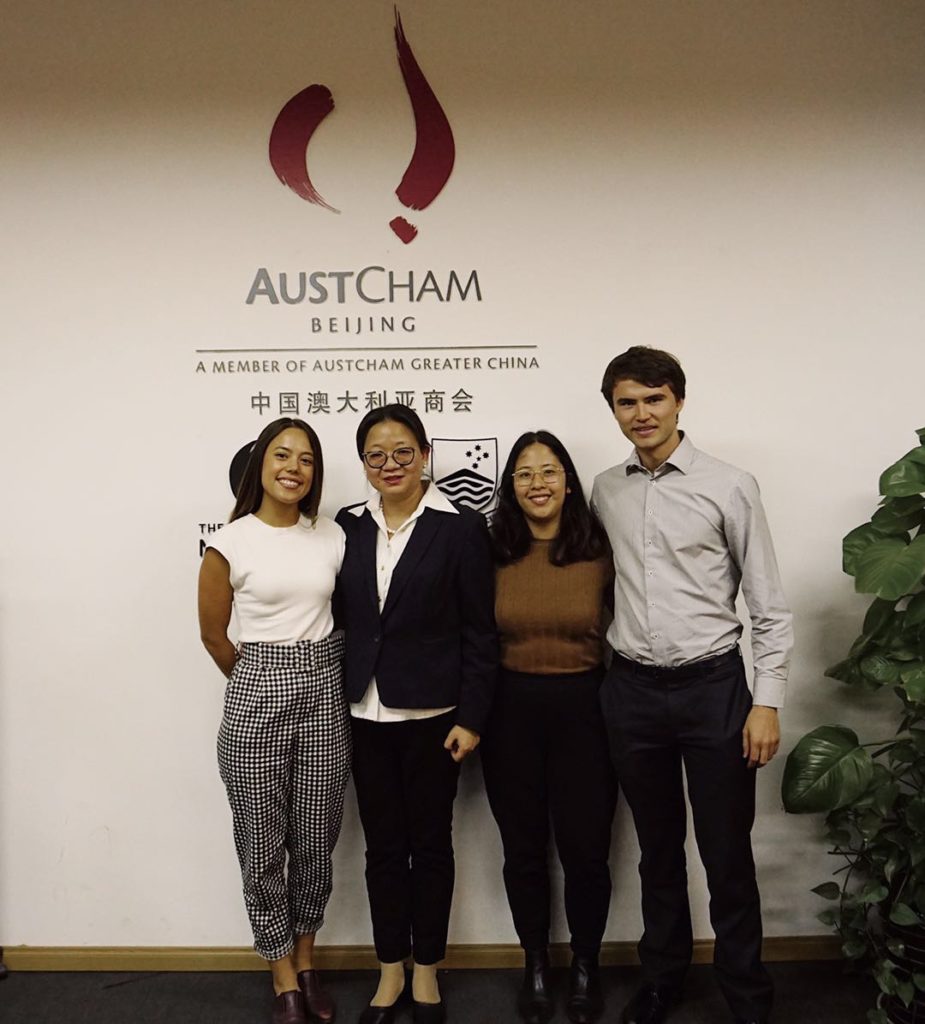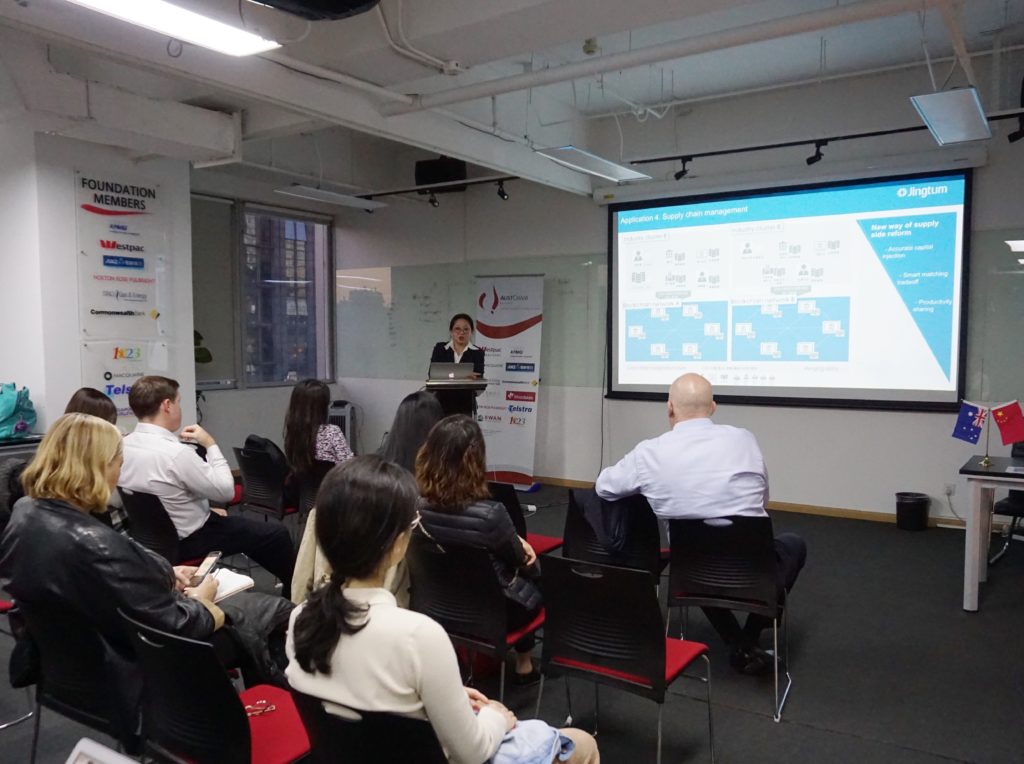 ---
In recent years, Bitcoin and blockchain technology have been dominating world tech and finance headlines, however the influence of blockchain now extends well beyond just these industries. Join us to develop your understanding of blockchain technology as Grace Chen from Jingtum Tech, China's first underlying blockchain tech company, helps explore its history and evolution. We will also touch upon blockchain technology in China and how companies are using this technology to further business. 
The event will feature a speech from Ms. Chen, followed by a short Q&A session with networking and drinks afterwards. This event will be a great opportunity for business professionals from the Chinese and Australian community, young professionals and local and foreign entrepreneurs to learn more about blockchain and how it applies to them.
Event Details
Date: Wednesday October 17
Time: 4:30pm – 6pm (registration at 4pm)
Venue: AustCham Events Space
Location: Room 1003, Tower A, U-Town Office Building, 1 Sanfengbeili, Chaoyangmen Area | 朝阳门三丰北里1号悠唐国际写字楼A座1003室
Price: ¥70 for members, ¥120 for non-members
RSVP: events@austcham.org or juenwei.ding@austcham.org
More details to come
---
About Jingtum Tech
Grace Chen is Jingtum Tech's Vice President of Brand Communication, Public Affairs and Partnership Relations.
Jingtum Tech was founded in 2014 and is the first underlying blockchain technology company in China, providing innovative blockchain applications and platform based on its own IPs.
In Silicon Valley, Jingtum's scientists and engineers started to convened to develop an independent IP blockchain underlying technology at the end of 2011, which was the first of China and among the earliest in the world. In 2014, Jingtum formally released the underlying blockchain technology platform capable of supporting commercial application that has been operating steadily for 4 consecutive years. In 2015, Jingtum was contracted by a Fortune 500 company to build the first blockchain commercial application in China.
Now, Jingtum owns the top specialists in blockchain, finance, telecom, network security, visualization and big data and has established branches in New York, Beijing, Shanghai, Guiyang, Shenzhen, Qingdao, Wuxin, apart from the Silicon Valley.
Apart from speeding up the iterative process of the Jingtum blockchain characterized with RBFT consensus, Jingtum Tech is collaborating with various industries and enterprises to explore valuable blockchain applications both in China and worldwide. Currently, Jingtum Tech has completed and been implementing about 30 blockchain projects with industries, owns 15 domestic patents and reached a processing speed of 5000TPS.