On 12th November AustCham Beijing hosted the Hon. Barnaby Joyce, Minister for Agriculture and Water Resources at a breakfast with representatives from agricultural and water resource industries based in both Australia and China. Minister Joyce spoke about Australia as a quality supplier of quality goods to China. Emphasising the strong, mutually beneficial trade links between China and Australia, as G20 countries with a free-trade agreement. The Minister noted that he came to China a year ago to say 'please', and has now returned to say 'thank-you'.
The industry delegation included Daryl Boarman from Avocadoes Australia Lmited, Hamish McLaren from Nerstane Merino Stud, James Jackson from Sheepmeat Council of Australia, Lynne Ziehlke from the Australia Macadamia Society, Marc Greening from Injemira Beef Genetics, David Milton from Grove Fruit Juice Pty Ltd., Sue Daubney from Bannister Downs Dairy, Paul Thompson from Select Harvests, John Moore from Summerfruit Australia Limited, Rob de Fégely from the Institute of Foresters of Australia and Wallace Change from CBH Group.
Join AustCham Beijing's Food & Agribusiness Working Group breakfast with The Hon Barnaby Joyce MP, Australia's Minister for Agriculture and Water Resources. The Minister will be accompanied by a high-level delegation of Australian business and industry representatives. This will be Minister Joyce's first visit since the signing of the China-Australia Free Trade Agreement. During his visit, Minister Joyce will meet with counterpart Ministers. The Minister's visit provides an opportunity to promote the benefits of the ChAFTA and progress agricultural trade and cooperation between Australia and China.
---
Date: Thursday, 12th November 2015
Time: 8:00am-9:30am
Price: 280RMB (Members) 350 (Non Members)
Venue: Great Hall, St. Regis Beijing/ 北京瑞吉酒店
Address: 21 Jianguomenwai Dajie / 中国北京市建国门外大街21号
---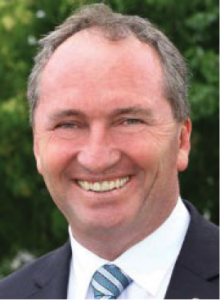 The Hon Barnaby Joyce MP Biography:
Minister for Agriculture and Water Resources, the Hon Barnaby Joyce MP, has been a member of the Federal Parliament since 1 July 2005 for the National Party of Australia ("the Nationals"), firstly as a Senator for Queensland until August 2013, and then as the Member for the northern NSW electorate of New England since September 2013.
Minister Joyce is currently the Nationals' Parliamentary Deputy Federal leader to Deputy Prime Minister Warren Truss.
 Minister Joyce was the fifth child in a farming family of six children. He was born and raised in the New England region of New South Wales where his family owned a sheep and cattle property. After completing high school at St Ignatius College Riverview, Sydney, Minister Joyce studied at the University of New England where he gained a Bachelor's degree in Financial Accounting. Minister Joyce practised as an accountant, as a rural banker, and ran his own accountancy firm in St George, Queensland, for 10 years prior to entering public life.
Minister Joyce was appointed as Minister for Agriculture on 18 September 2013. As well as his ministerial responsibilities, Minister Joyce was also appointed as chair of the Prime Minister's Water Infrastructure Ministerial Working Group.
As Minister for Agriculture, Minister Joyce has delivered the Agricultural Competitiveness White Paper to support a strong and prosperous agriculture sector for Australia; realised the biggest overhaul to Australia's biosecurity system in over 100 years with the new Biosecurity Act 2015; and delivered comprehensive support packages to assist farmers in drought.
As Minister for Agriculture, he has also been keen to strengthen Australia's relationship with international trading partners, and in his first two years in the role Minister Joyce has made it a priority to visit North and South-East Asia as well as the Middle East.
On 21 September 2015, Minister Joyce also assumed portfolio responsibility for water policy, and was sworn in as Minister for Agriculture and Water Resources in the new Turnbull Ministry.
Minister Joyce is married with four daughters.​