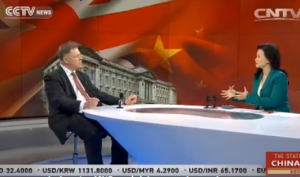 Thursday, October 22nd 2015
On Wednesday the 21st of October, AustCham Beijing Treasurer and Managing Partner of Lehman Brown International Accountants, Russell Brown was interviewed on CCTV News regarding the developing China-UK trade relations, and the significance of Xi Jinping's recent visit to the UK . Brown listed a number of key points regarding the trade relationship between the UK as a global trading country and China as a global economy. A notable comment by Brown was that we're seeing the start of a new golden era where trade relationships are being built to new levels, and with relevance to China-UK ties, he added the importance of the UK expanding its knowledge of China, as understanding each other is a significant aspect of international trade.
Another notable point in Brown's discussion was the emphasis for the UK to open their own markets on the ground and welcome China in with open arms. By doing so, China may re-look at its own restricted and prohibited industries, particularly sectors where Britain has strengths, such as: financial services and insurance. Further adding, that this will be fundamental for creating business opportunities for British businesses and allowing them to not only expand in China, but also assist China with the development of these industries.
To watch the full interview, beginning at 14:10: http://english.cntv.cn/2015/10/21/VIDE1445420766260745.shtml