Make the most of your weekday with delicious offerings at The Opposite House!
UNLIMITED DIM SUM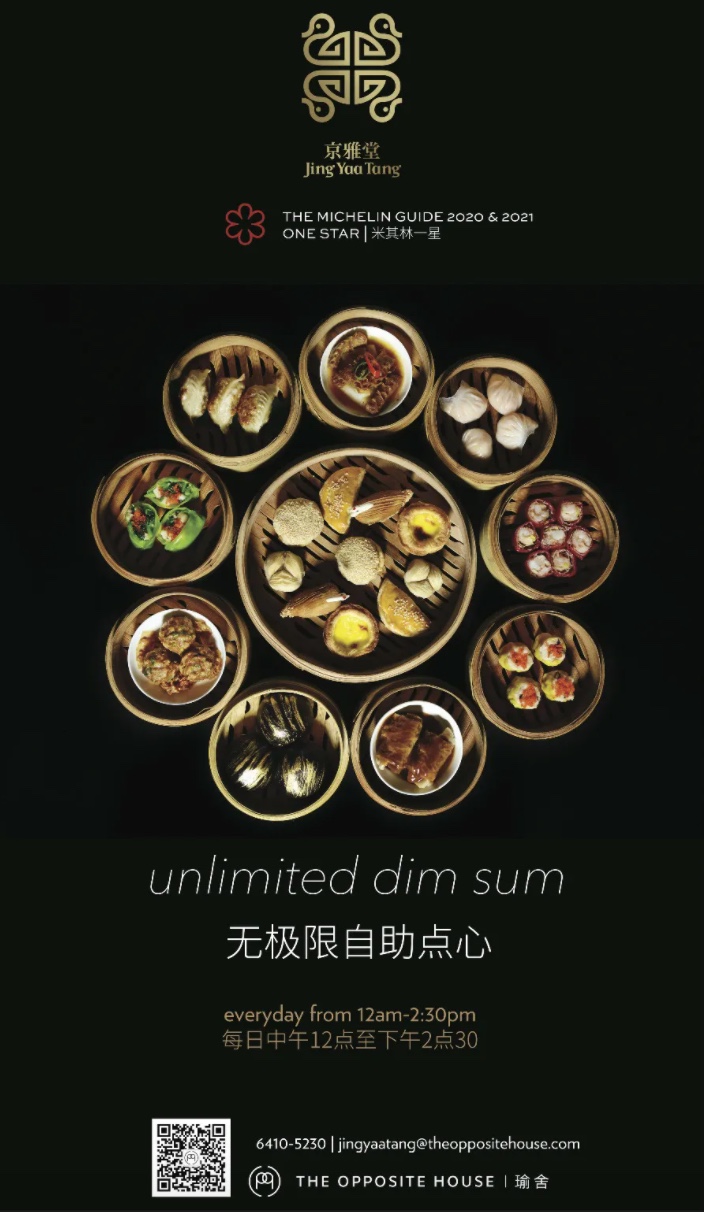 Weekdays – RMB 168/per person || Weekends – RMB 188/per person
From now on you can enjoy Jing Yaa Tang's famous unlimited dim sum at the amazing price of 168RMB per person during weekdays. Available daily from 12-2:30pm.
OUR RECOMMENDATION
Hargow
The prized delicacy of any dim sum meal of course is the Hargow – simple, elegant yet surprisingly complex to master. At Jing Yaa Tang, our chef takes extra steps to make sure each delicately wrapped shrimp morsel is perfect. A good Hargow skin has to be stretched thin with a special knife to ensure the proper thickness. The shrimps must be cooked live to preserve their flavour and texture, when wrapping the dumplings each rice wrapper must be flooded at least 9 times but no more than 12 times. This provides the ideal amount of tension on the skin of the wrapping to allow a springy bite and translucent sheen; the pattern of the cooked shrimp should be just visible.
+8610 6410 5230
WINE SOCIAL ALL DAY

Come and join our wine social for 50% off an ever-changing selection of champagne and wine handpicked by our sommelier Ashley.
Everyday from 11am – 10pm.
OUR RECOMMENDATION
WHITE WINE – Rkatsiteli, Puchang, Xinjiang China, 2016
70% Rkasiteli (Georgian Grape), 30% Riesling, this wine has spices stone fruits and a touch of wood on the nose, leading to a palate of tropical fruit and vanilla oak.
RED WINE – Syrah, Luke Lambert, Yarra Valley, Australia, 2018
This Syrah is a classical style with unmistakeable character. It's aged in old, neutral oak. Lighter in body, peppery, herbaceous and fruits that go from juicy red to sweet black. It's balanced with crisp acid and light tannins.
CHAMPAGNE – Egly Ouriet Brut Tradition Grand Cru, NV
The predominance of Pinot Noir in this Champagne gives the wine its intense rich berry-fruit character. Caramelized apple, delicate spices, and cherry clafoutis notes make this a delicious Champagne that can stand up to foods with stronger flavours.
+8610 6410 5180
PASTA FOLLIA

Pasta is the soul of Italian cuisine, Every Thursday, let's go crazy with PASTA FOLLIA!
Choice of any 2 pasta and enjoy a bottle of Italian wine on the house at Frasca.
OUR RECOMMENDATION
Pappardelle Al Ragu Di Anatra
Our homemade pasta is crafted with fresh Japanese eggs and imported semolina flour.
Using duck liver, breast and thigh cook with fresh Mediterranean herbs-rosemary, thyme, sage, sagebrush and slow stew with duck soup. A true flavourful pasta just as you tasted it in Italy.
+8610 6410 5210
BFF – BEER FREE FLOW

118RMB/ per person
" Yes, There Is A Day For Everything. Today Is Drink Beer Day!"
Every Tuesday, bring your besties and join Superfly's BFF (Beer Free Flow). 7 different beers on tap for you to chug on.
OUR RECOMMENDATION
Honey Ma Gold
A Spiced Golden Ale Brewed in China with Chinese Honey, Chinese Hops & Sichuan Peppercorns.
+8610 6410 5220