Chinese investment in healthcare has soared over the past 3 years. Australia is becoming a highly sought-after destination for healthcare investment due to the expertise of health professionals, availability of cutting-edge technology and high regulatory standards. As China's aged care industry develops and its healthcare service delivery sector matures, there will be a greater need for these high-quality products and services and more demand for the businesses providing them. "The patterns that are emerging in China's domestic healthcare sector are likely to strengthen investment demand in the coming years as healthcare assets become a key component of many Chinese investors' portfolios," says Jenny Yao, Partner and Head of Healthcare, KPMG China.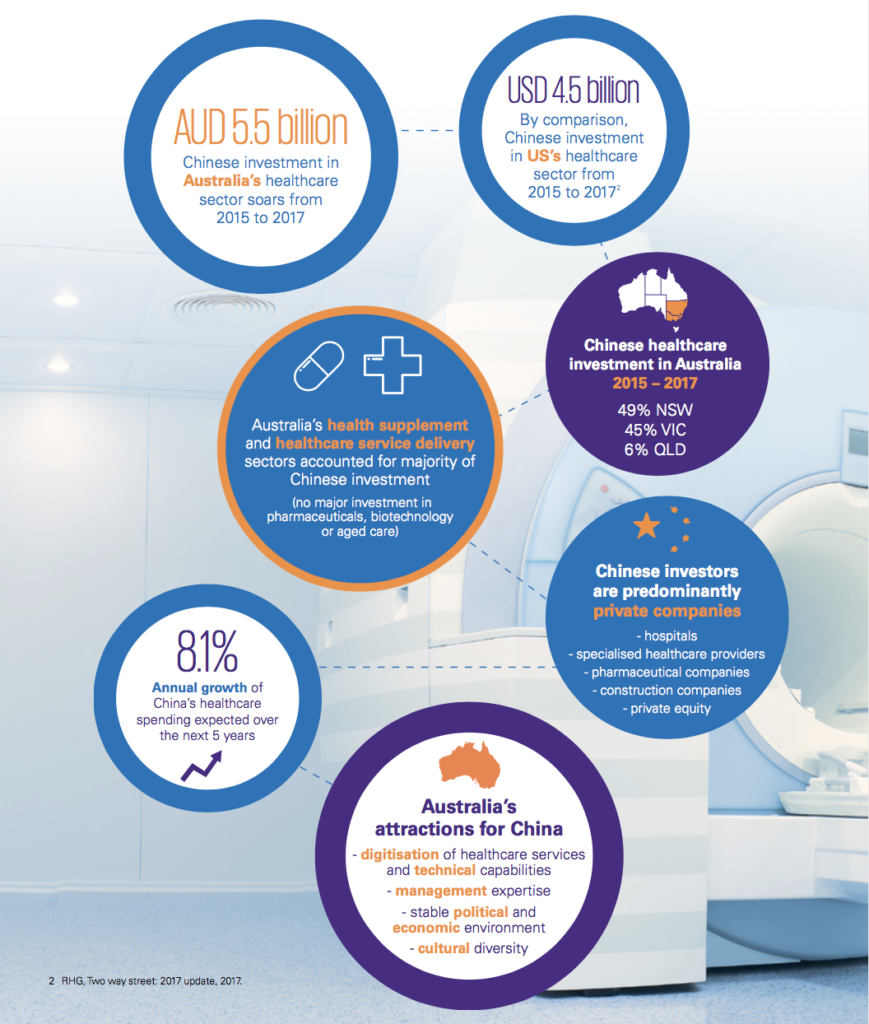 The 'Healthy China 2030' plan, launched by President Xi Jinping in August 2016 made specific reference to 'Big Health', 'digital health' and aligns China's health system with the UN 2030 Agenda for Sustainable Development. Improving health reform is one of the cornerstone polices under President Xi and a substantial increase in quality of and access to healthcare will come under the 5-year plan, the official framework for Chinese healthcare reform. This presents an opportunity for Australian companies to share their expertise and participate profitably in the industry's transition and growth. This support will be best provided through the continued use of joint ventures and repeat investments that build cooperation between both countries.
Chinese investment in Australia's healthcare sector is a relatively new trend and was first recorded in KPMG's statistics of Chinese ODI in 2015 with two very large deals: the sale of Swisse Wellness to Biostime and the acquisition of Archer Capital's Healthe Care by Luye Medical Group. These two deals accounted for 54 percent and 37 percent of the 2015 total of AUD 2.55 billion, respectively. The majority of Chinese investment in Australian healthcare has been primarily concentrated in New South Wales, Victoria and Queensland with most of the investment targeting healthcare products and healthcare services with a near even split. For Chinese investors, Australia is more than a destination for leading technology or care providing experience. The combination of transferable management know-how, high-level care service experience and state of the art technology are complemented by the 'clean, green and healthy' image of Australian products and the attraction of Australia for Chinese health patient tourists. The 'Australia package' is attractive to Chinese visitors who are keen to access reputable healthcare with an established track record. Rather than general health services, Chinese companies seek to invest in specialist services such as oncology, radiology, ophthalmology, IVF and aged care. These services are replicable in the Chinese market and can be customised to fit the specific needs of China's middle-to- high end consumer markets. For Australian company's Chinese investment presents an opportunity to access capital for expansion and new export markets and supply chains.
The outcome of increased investment will be a
 highly competitive Australian healthcare sector that
can accelerate research and continue to improve technological advantages. Increasing the scale in the Australian healthcare industry will benefit both Australian and Chinese consumers into the future.
To read KPMG's full report click here.