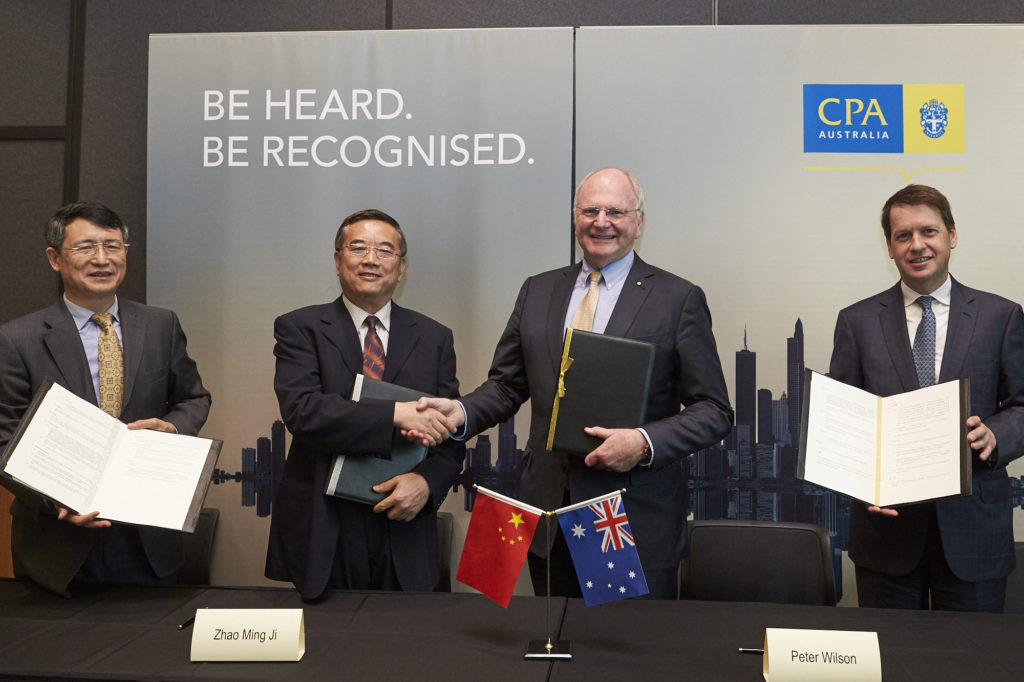 By: CPA Australia
On 6th November 2018, CPA Australia signed a Memorandum of Cooperation (MoC) with the Chinese Institute of Certified Public Accountants (CICPA) at the 20th World Congress of Accountants (WCOA) in Sydney.
The MoC is designed to facilitate closer collaboration between the two bodies, enhance the international standard of accounting professionals and broaden the opportunities for members from both bodies.
The MoC was signed by Mr. Zhao Mingji, President of CICPA, Mr. Chen Yugui, Executive Vice President and Secretary General of CICPA, Mr. Peter Wilson, President and Chairman of the Board of CPA Australia, and Mr. Andrew Hunter, CEO of CPA Australia. The MoC signing ceremony took place at the International Convention Centre in Sydney and was witnessed by more than 50 representatives from both bodies.
CPA Australia President and Chairman Peter Wilson said the signing of the MoC with CICPA was a significant milestone in the relationship that the two professional accounting bodies have enjoyed since the early 1990s.
"CPA Australia is very proud of our history of collaboration with CICPA, particularly our International Partnership Program, which offered 50 members from CICPA the opportunity to study the CPA Program and obtain the CPA Australia designation between 2007 to 2010.
"The MoC signed today will further strengthen our relationship by facilitating more opportunities for collaboration on projects that will directly benefit our members, including carrying out research that will provide insight into some of the changes occurring in the accounting profession.
"We will also have the opportunity to create more continued professional development resources for our members, while elevating standards and maintaining the sustainability of the accounting profession", Mr Wilson said.