By Cheung Kong Graduate School of Business (CKGSB)
On November 28 in Beijing, more than 500 attendees and 520,000 live-stream viewers tuned in as 16 inspiring leaders – including the British Ambassador to China, Barbara Woodward, Australian Ambassador to China, Jan Adams, Chairwoman of China International Capital Corporation, Shirley Chen, and Vice President and CMO of IBM Greater China Group, Gill Zhou – explored the challenges women face in the workplace, and discussed ways to empower future female leaders at the 4th Women in Leadership Forum in Beijing on November 28, 2018. Co-hosted by Cheung Kong Graduate School of Business (CKGSB) and the United Nations Entity for Gender Equality and the Empowerment of Women (UN Women), this year's forum spotlighted motivational women who are improving the status quo through their work in social enterprise, impact investment and mission-driven businesses.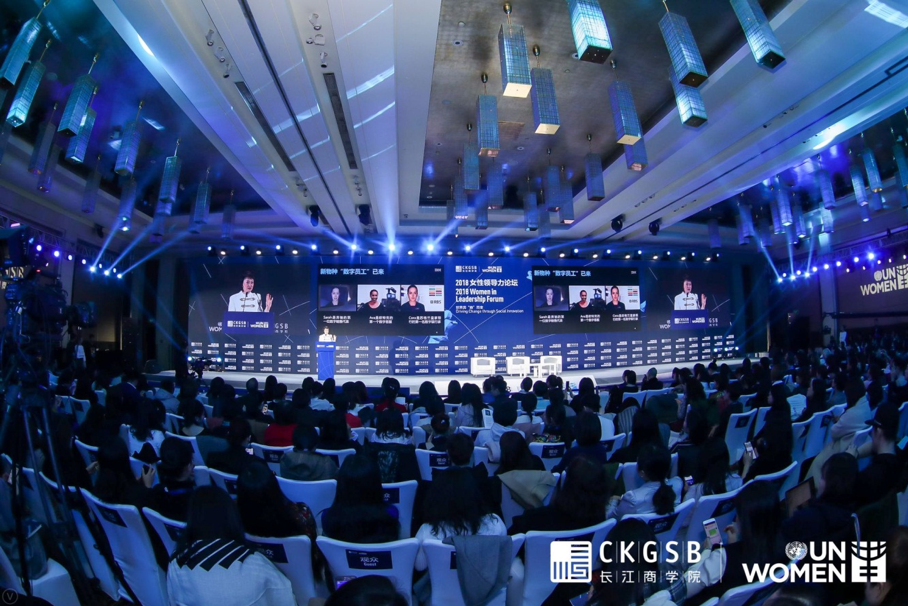 As China's leading business school and an advocate of women business leaders, CKGSB wanted to create a platform to not only discuss the challenges women face at the top, but to also celebrate those who are running successful ventures that benefit society, as well as highlight the collaboration between governments and businesses in fostering leadership and social innovation.
Maria Guimaraes, Strategic Partnership Specialist at UN Women Regional Office for Asia and the Pacific, and Zhou Li, Assistant Dean of CKGSB, kicked off the event with welcome remarks, where they both highlighted their organizations' efforts in women's empowerment.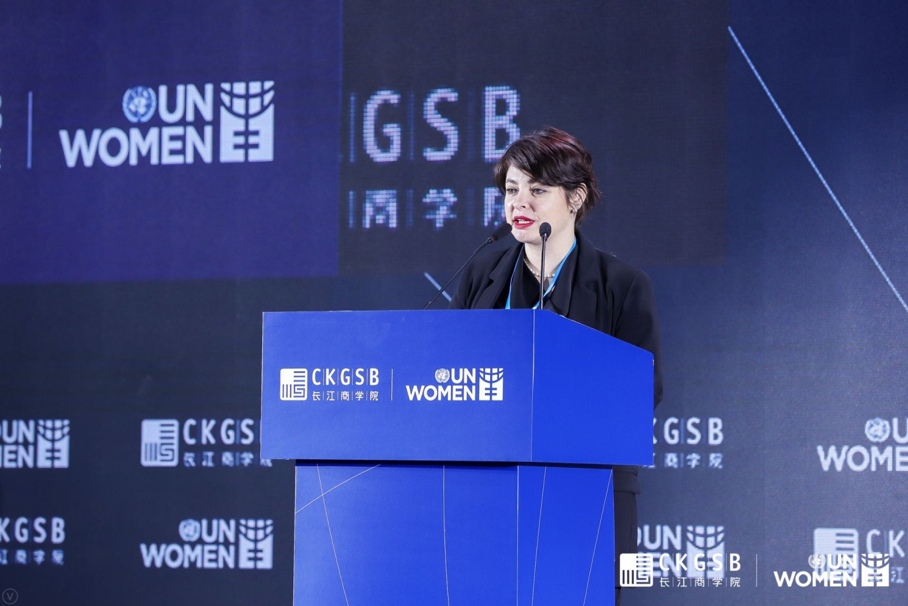 Guimaraes said, "This is the third time that UN Women has teamed up with Cheung Kong Graduate School of Business to organize a women's leadership forum. We have been striving to truly promote women's equality and women's empowerment through various means. Women's empowerment is always our pursuit. We empower women, not because this is the right thing to do. If we want to move the world forward in a sustainable manner, this is the only thing to do. Women's unique perspectives and keen observations of society and consumers can help companies make more pragmatic plans. Therefore only when more women enter the corporate management team and the Board of Directors can companies better cope with the challenges facing the world economy."
CKGSB Assistant Dean Zhou Li said, "Cheung Kong Graduate School of Business goes beyond business school boundaries that tend to be limited to management and operation. Instead, we shoulder our social responsibility to give women more opportunities. So far, out of our 13,425 alumni, 23% of them are women. Women's leadership is of particular concern to us. In our MBA, FMBA, EMBA, CEO and DBA programs, we are seeing an increase of female students. Our MBA program, in particular, has over 50% female students. We have relatively lower female ratio in our CEO and DBA programs, whose students are already business leaders in the C-suite level. But I'm proud to say that our ratio is more than 5% higher than the world average ratio of female CEOs in Fortune 1000 companies. 80% of CKGSB staff is female and 23% of our professors and 33% of our deans are women."
The first session – Government: Cultivating HER Leadership – with the first female British Ambassador to China, Dame Barbara Woodward, Australian Ambassador to China, Jan Adams, and CKGSB's Associate Dean for EMBA Programs and Professor of Marketing, Juliet Zhu, talked about the government initiatives in place and how public entities collaborate with private corporations to empower women.
The British Ambassador to China, Dame Barbara Woodward spoke about the UK Government's Be Yourself: Pledge for Progress campaign, launched nationwide in China in partnership with China's Mulan Club and the British Chamber of Commerce in China, to inspire practical action on furthering gender equality in the workplace.
Ambassador Woodward said, "I'd like to extend my gratitude to Cheung Kong Business School for inviting me to attend this important forum. China has a long history of promoting gender equality. In the 1960s, Mr. Mao Zedong said that women can lift half the sky. In 2015, President Xi Jinping reaffirmed the significance of promoting gender equality and women's development."
Ambassador Woodward went on to say, "Government plays a strategic role in social innovation and gender equality. We must set the direction with proper policy frameworks. Sino-British cultural exchanges and humanities dialogue are an important part of this process. Through high-level dialogues under the leadership of British Prime Minister Ms. Teresa May and Chinese Vice Premier Liu Yandong, we have carried out many further activities. We will continue to deepen cooperation between the Chinese and British governments and will further expand the work of the British Embassy in China. We hope to work with Cheung Kong Graduate School of Business, all participants, academia, NGOs, and the business community. Today's Women in Leadership Forum is the decisive step of the crucial journey for a qualitative change in women's empowerment."
Next, the Australian Ambassador to China, Jan Adams, talked about Australia's contribution to women leaders and their efforts to support more talent through their government initiatives.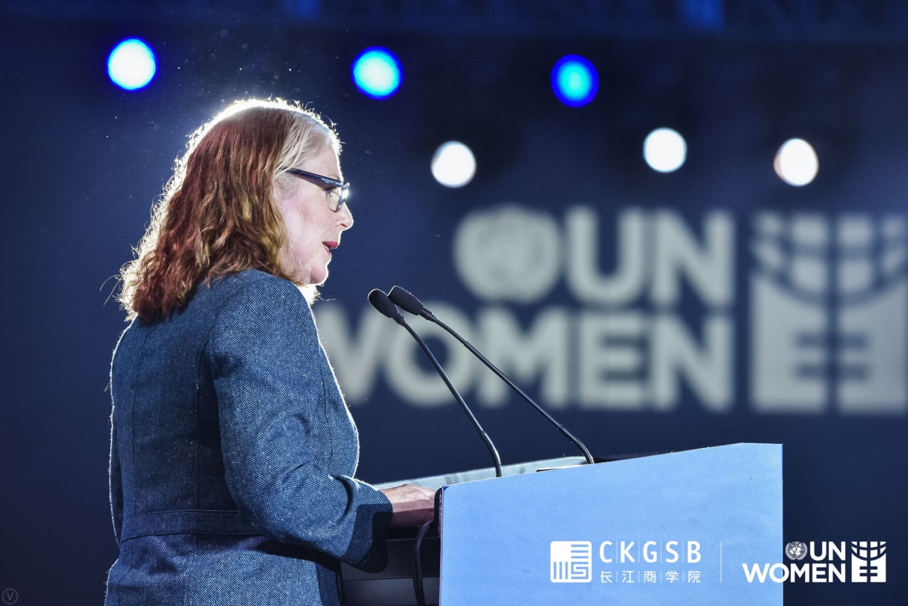 Adams says, "We must admit that even if gender discrimination is illegal in Australia, gender discrimination and equal pay for equal work still exist. There are many historical and social reasons behind this, which are very complicated and cannot be solved in a one-size-fits-all manner. But culture can be changed, and social atmosphere can also be changed. We need to have more women in the top management of a company and in the senior leadership positions of a government. Government has a role to play to change the gender culture. The Australian Government has always attached great importance to the development of women's leadership and will work on the research of it, for example the collection of data on women's leadership. This reshapes and transforms gender culture."
Following her speech, Ambassador Adams officially witnessed the launch of a unique partnership between CKGSB and Australia's Victoria Government. The Memorandum of Understanding, signed by CKGSB's Assistant Dean Zhou Li and Lisa Renkin, Deputy Commissioner of Victoria Government Trade & Investment, aims to increase collaboration and exchange between Chinese and Australian businesses through collaboration on events on women in leadership and executive education programs.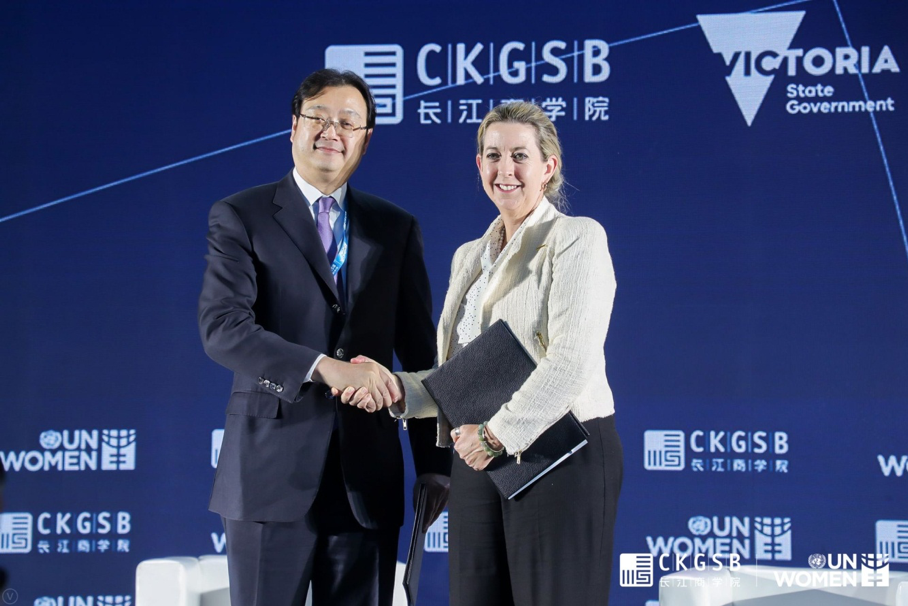 Renkin said, "This strategic MOU signed this time has far-reaching influence both in the academic circle and in the business sector. We look forward to strengthening cooperation with Cheung Kong Graduate School of Business to promote women's leadership, share the value of women empowerment, and pass on this value to more people through dialogues on forums, academic discussions, business contacts, and entrepreneurial innovation."
Assistant Dean Li agreed and went on to say, "We look forward to transcending the boundaries of traditional business and business schools, focusing on more topics on humanity, social sustainability and human progress, and building up the capabilities of Chinese companies to the global value benchmark."
The second session – Business: SHE Changes the World – featured Gill Zhou, Vice President and Chief Marketing Officer of IMB Greater China Group, Shirley Chen, Chairwoman of China's leading investment bank CICC, Jiang Lijun, Founder and CEO of ITLaser and CKGSB's METI student, and Liu Jing, CKGSB's Associated Dean for DBA and Chuang Community and Professor of Accounting and Finance. The panel explored China's latest investment and AI trends, as well as the important role that women play in these currently male-dominated sectors.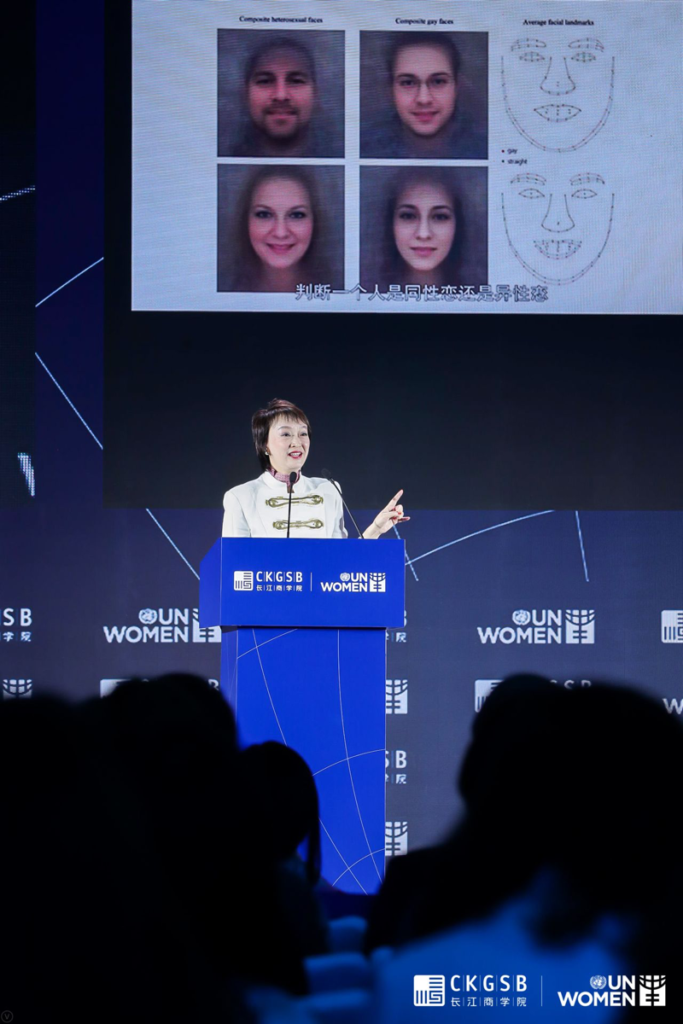 In her keynote speech titled, "When Digital Humans Arrive," Gill emphasized the importance of AI to the future of mankind, saying, "In the future, artificial intelligence will permeate every corner of our work. The process of job creation to unemployment has been the same for hundreds of years. The trend of artificial intelligence doesn't mean that a machine will replace human beings, but a smart machine will work with humans and will replace humans who don't work with AI machines."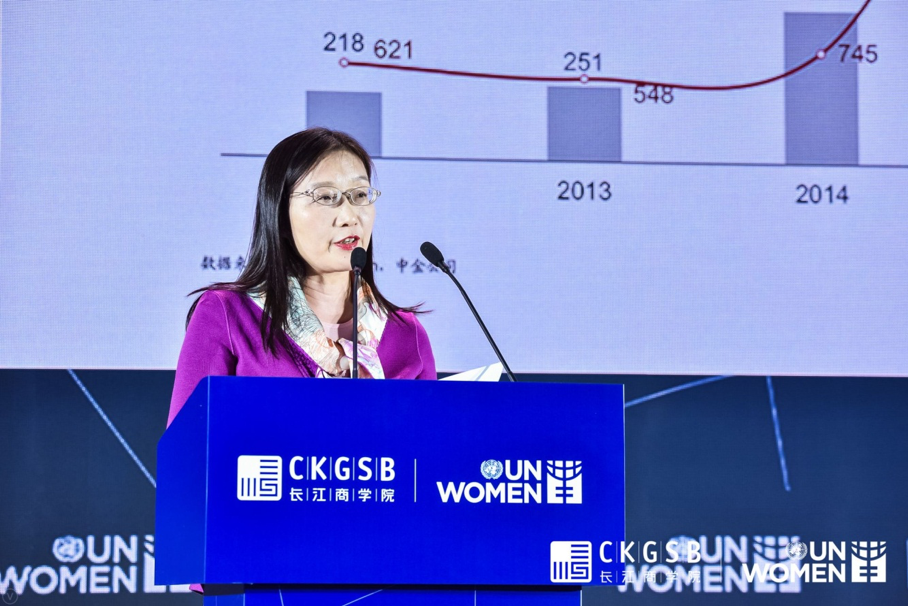 Shirley Chen shared insights and highlighted the challenges and trends in equity investment in her keynote speech, saying, "The average time for Chinese unicorn companies to reach $1 billion is four years, while that for American unicorns is 7 years. Nearly half of China's unicorn companies have become unicorn companies within 2 years, compared with only 9% in the United States. The valuation of the rapid expansion of Chinese unicorn companies is increasingly diluting, and tides will soon recede."
Before the final session, CKGSB Professor Juliet Zhu gave a keynote speech on the importance of role models to encourage more women leaders, saying, "Behavioral science tells us that the public needs role models. When we talk about culture, we should consider what kind of example we can set. The media, government, and enterprises need to know who they need to influence the public. We must correctly foster such a role model to build the right culture. Otherwise young girls and women may not be able to make full use of their potentials. They need the power of these role models. Whether it is governmental or non-governmental, male or female, business or academic; the value of female role models should be shared."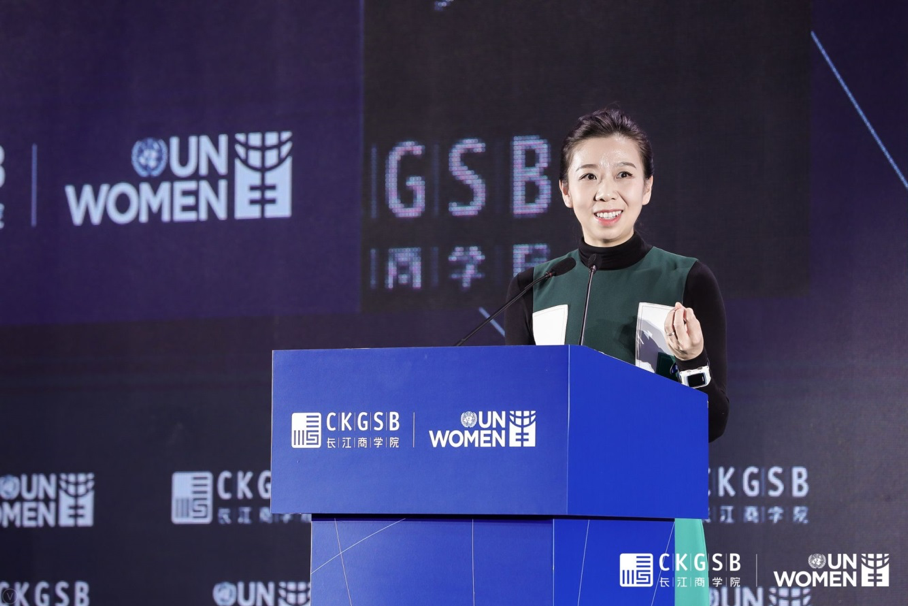 The final session – Social Entrepreneurship: SHE Innovates for Humanity – featured inspirational women who are innovating in the field of philanthropy, including Cai Shiyin, Founder of Dialogue in the Dark China; May Mei, Executive Director and Founder of GoalBlue; Pan Jiangxue, Founder of Shanghai Adream Charitable Foundation; Wang Yiou, Founder of China-Dolls Center for Rare Disorders; Yang Yin, Founder and CEO of qschou.com; and CKGSB Professor Juliet Zhu. Together the panelists shared their journeys of running start-up NGOs, the challenges and the impact of social entrepreneurship in China.
About the Women in Leadership Forum
CKGSB held the first Women in Leadership Forum in 2013 as a platform for celebrating success stories, empowering aspiring women leaders, promoting gender equality in the workplace, and offering an opportunity to create positive change. Since then, the forums have featured influential leaders including Sheryl Sandberg (Facebook's COO), Geoff Wilson (KPMG Asia's COO), Julia Broussard (Former head of UN Women China), Yang Lan (Prominent TV Presenter and Co-founder of Sun Media Group) and Jean Liu (President of Didi Chuxing Technology Co).
About Cheung Kong Graduate School of Business (CKGSB)
Established in Beijing in November 2002 with support from the Li Ka Shing Foundation, CKGSB is China's first faculty-governed and independent business school. CKGSB has more than 40 full-time professors, many of whom previously held tenured faculty positions at leading business schools such as Wharton and Yale. Their research has provided the basis for more than 400 case studies of both China-specific and global issues. CKGSB also stands apart for its alumni network. More than half of CKGSB's 10,000+ alumni are at the CEO or Chairman level and, collectively, they lead one fifth of China's 100 most valuable brands.
Headquartered in Beijing, CKGSB is also located in Shanghai, Shenzhen, New York, Hong Kong and London. The school offers the following courses: MBA, Finance MBA, Executive MBA, Business Scholars Program (DBA), and Executive Education programs.
For more information, please visit here.
About UN Women China Office
In July 2010, the United Nations General Assembly created UN Women, the United Nations Entity for Gender Equality and the Empowerment of Women. UN Women provides guidance on gender equality, women's empowerment, women's rights and gender mainstreaming to countries at different stages of development globally. We aim to create a just society free from any form of discrimination. Our work contributes to all of the sustainable development goals.
Our current work in China focuses on ending violence against women, economic empowerment, gender and climate change, the China Gender Fund and youth education.