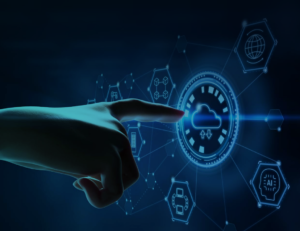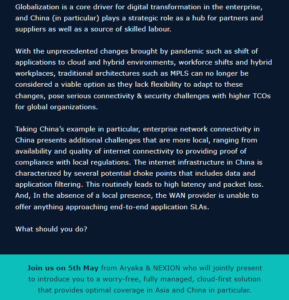 AustCham China's new member NEXION Networks is happy to provide our community with valuable insights in the international communications industry.
NEXION Networks works together with Aryaka to make it easy for enterprises to consume a global network with embedded network security solutions delivered as-a-service for a variety of modern deployments.
Learn about the top 5 challenges faced by global enterprises when connecting employees, customers, partners and suppliers in the China region:
Challenge 1: Enterprise Application Performance into China
Challenge 2: Communication / UCaaS Application Performance
Challenge 3: IP-Based Applications
Challenge 4: Remote Worker Connectivity
Challenge 5: China Compliance
According to NEXION Networks, globalization is a core driver for digital transformation in the enterprise, and China plays a strategic role as a hub for partners and suppliers as well as a source of skilled labour. The problem is that enterprise network connectivity in China presents local challenges, ranging from availability and quality of internet connectivity to providing proof of compliance with local regulations. Aryaka's fully managed multi-cloud connectivity solution provides optimal coverage of Asia in general and China in particular.
To learn more please visit: https://info.aryaka.com/china-connectivity-challenges.html and
Find out more about the webinar here