2015-12-03
Yuan accepted into IMF's group of global reserve currencies
The International Monetary Fund has included the yuan in its basket of currencies used to value their special drawing rights (SDR). The change, effective in October 2016, means the yuan will join the US dollar, euro, yen and pound sterling in the SDR basket. The inclusion of CNY in the basket is a win for Chinese reformers who have been pushing for financial liberalisation. However, strategists are not confident central bank reserve managers will rush to top up their yuan holdings, as further development of Chinese debt and capital markets is required to create assets central banks want to own. Click here for full article.
Yuan's SDR entry spillover effects on AUD
While the admission of the Chinese currency is a great leap forward for financial liberalisation in China, there may be spillover effects for the Aussie dollar. The Australian currency was more liquid than its Chinese counterpart and had been used in favour with reserve managers as a proxy for China during the boom years. Since China's growth peaked the dynamics within the Australian economy changed, there have been signs the Australian dollar is less critical to central bank reserve inclusion. Click here for full article.
RBA leaves cash rate unchanged at 2.0 per cent
Glenn Stevens has announced the RBA decision to hold the cash rate at two per cent after Tuesday's meeting. Information suggests that moderate expansion in the Australian economy will continue despite a reduction in mining investment. While growth is still slightly below trend, business surveys suggest a gradual improvement in conditions in non-mining sectors. With economic conditions firming over the previous two months the board judged holding rates unchanged to be appropriate. Click here for full article.
Aussie tech company Atlassian eyes $5bn valuation after US listing
Sydney-based software tools maker Atlassian will aim for a valuation of $US3.6bn ($5bn AUD) when it lists on the Nasdaq, a preliminary prospectus has revealed. This would be the largest IPO by an Australian technology company to date. At this valuation co-founders Mike Cannon-Brookes and Scott Farquhar will become instant billionaires, based on their 37 per cent holdings in the company. Each will be worth $US1.33bn on paper. Click here for full article.
ECB plans additional stimulus
Mario Draghi, president of the European Central Bank, is set to inject at least €600bn into the Eurozone economy and cut interest rates further into negative territory in an effort to boost inflation. This marks the first divergence between European and American monetary policy since the mid-1990s with the US Federal Reserve expected to raise interest rates for the first time in nearly a decade. Economists said the euro may drop below parity with the US dollar for the first time since 2002. Antonio Montilla, an economist at Citi Bank, expects Draghi will need to unleash even more stimulus next year. Click here for full article.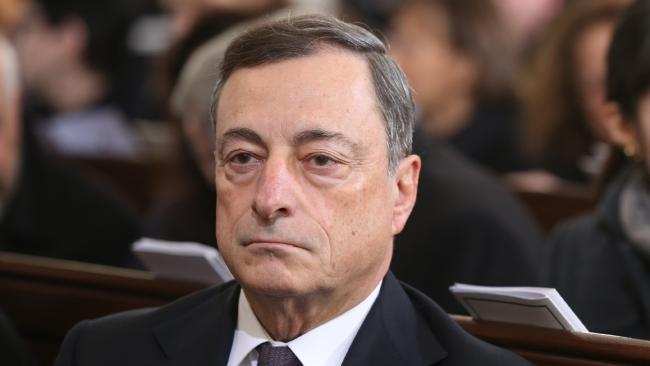 ECB President Mario Draghi, source: The Australian "ECB chief plans new $833 billion injection to spur inflation", 30-11-2015