Webinar Link to Private Briefing with Australia's Ambassador to the People's Republic of China H.E. Mr. Graham Fletcher
08-13-21 @ 10:00 am

-

11:30 pm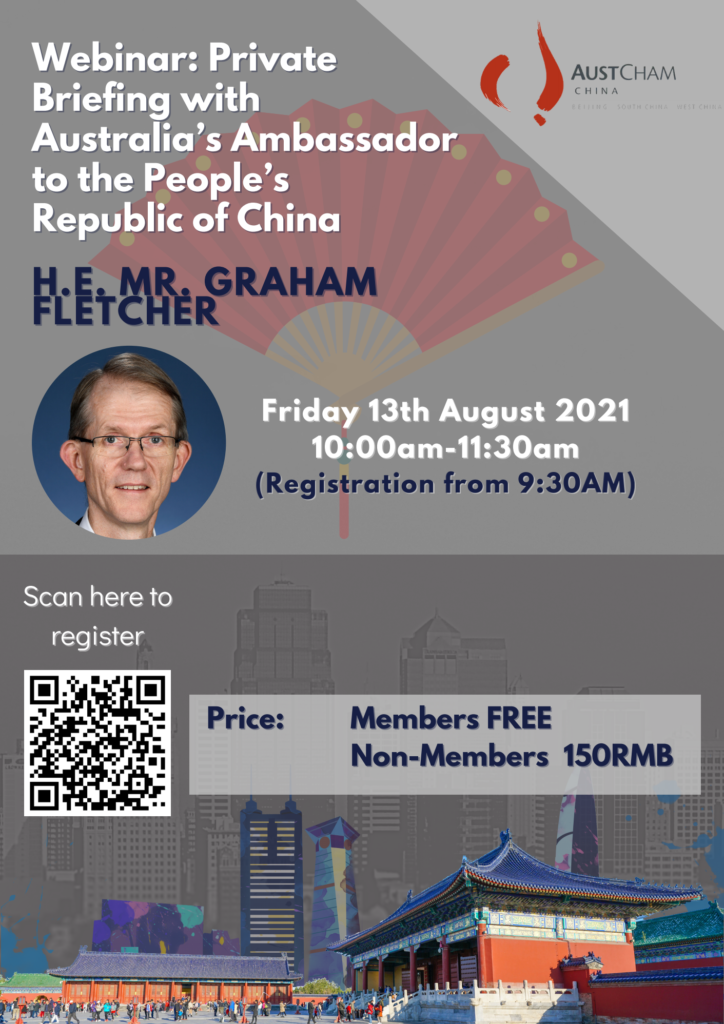 Thank you for registering for the online webinar: Private Briefing with Australia's Ambasador to the People's Republic of China H.E. Mr Graham Flecther to be held this Friday August 13th.
Please refer to the dial-in details below to access the webinar:
Join the event using the link below:
https://austrade.webex.com/austrade/j.php?MTID=ma45f0e1a35e2ea30639a5bdd75339d91
Join by the event number
Event number (access code): 165 387 1520
Event password: RGwwtjVA672 (74998582 from phones)
Tap to join from a mobile device (attendees only)
+61-2-9338-2221,,1653871520#74998582# Australia Toll
Some mobile devices may ask attendees to enter a numeric password.
Join by phone
+61-2-9338-2221 Australia Toll
Global call-in numbers
A Q&A session will follow. Questions for the speakers can be emailed to charlie.davison@austcham.org prior to or during the webinar. If you have any issues connecting, please also get in touch by replying to this email.
Event details:
Date: Friday 13th of August
Time: 10:00AM – 11:30AM (Registration from 9:30AM)