A Guide to Note-Taking: Visually Capturing Content
07-24-19 @ 6:30 pm

-

8:30 pm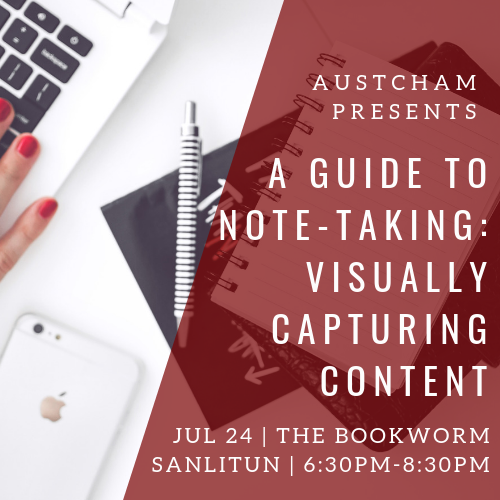 ---
AustCham, in support of BritCham, invites you to attend "A Guide to Note-Taking". The fourth in the series of BritCham's Management Series of events, this lecture will share how "visual notetaking" allows you to get the most of your meetings and lectures.
We all sit in meetings or lectures where valuable insights are shared by experts and which often disappear into thin air or are lost in private notebooks. This is a huge loss of value every day. Learn how to visually capture content and create high-value deliverables which help ideas grow. Learn the basics of visual note-taking.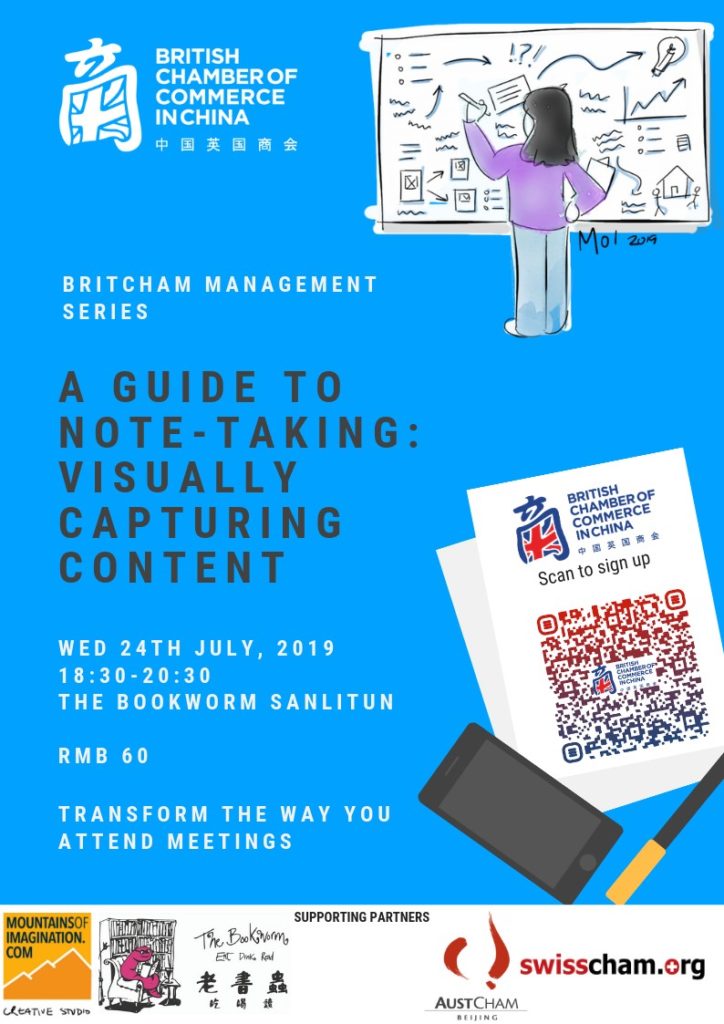 This event is perfect for you if:

· You want to impress your boss and get noticed

· You want to share the value of insights in a visual emotive way

· You want to make meetings and lectures more fun


In this workshop, you will learn how to:

· Identify content keywords

· Transform your handwriting and make it look awesome

· The basics of sketching

All with no drawing skills required
Bring a notebook and pen, tablet or smartphone and the energy to practice in this hands-on learning by doing a workshop.
Martin Barnes is a UK trained graphic designer who has done visual note-taking for events, training and workshops with Mercedes, VW, Johnson & Johnson, EO, Startup Grind and The British Chamber education forum. He has also hosted sketching workshops for kids groups, students and professionals empowering people to relearn their ability to visualise and so communicate clearly.
Event Details
Date: Wednesday 24 July 2019
Time: 6:30 – 8:30pm
Venue: The Bookworm, Building 4, South Sanlitun Road, Chaoyang District, Beijing
Cost: 60RMB
RSVP: Please register here