Event | COVID-19 Australian Government Webinar
02-21-20 @ 10:00 am

-

11:00 am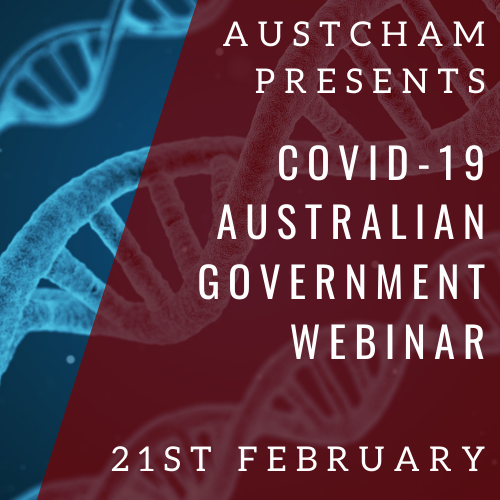 Join AustCham China for a briefing on the current COVID-19 situation from Australian Ambassador to the PRC, H.E. Mr Graham Fletcher. Also joining will be the Chief Economist of Austrade and General Manager of Austrade Greater China, Heather Cotching and Daniel Boyer (respectively).
Mr Fletcher will be providing an update from the Embassy regarding the current situation of the COVID-19 virus outbreak. As well as a broader discussion on what measures the Embassy is taking to ensure the safety of Australians in China.
​Ms Cotching will be examining the current economic impact and future projections of the COVID-19 virus in both Australia and China. Finally, Mr Boyer will discuss Austrade's current operations in China and their priorities over the coming weeks and in the long term.
Event Details:
Date: Firday 21th Feb,2020
Time: 10:00AM-11:00AM (Beijing Time)
Venue: Webinar (Online)
Scan the QR code or click here to register directly:
Join using a web browser or WebEx app
Click
here
. If prompted, below are meeting details:
Meeting number (access code): is 574 927 016.
Join from a video system or application
Dial 570267381@austrade.webex.com
You can also dial 210.4.202.4 and enter your meeting number.
Join by phone
Tap to call in from a mobile device (attendees only)
+61-29037-0069 Australia Toll
Join using Microsoft Lync or Microsoft Skype for Business
Dial 570267381.austrade@lync.webex.com
If you have any issues connecting, please consult
this page
for guidance. If the issues persist please contact Samrat (Samrat.Banerjee@austrade.gov.au) or Andy (Andy.Fu@austrade.gov.au) from Austrade's IT team. Alternatively, you may call +61-2-6201-8333 for Austrade IT Support if cannot reach Samrat or Andy.
If you have any questions for the speakers, please email them to daniel.waters@austcham.org ahead of the session.
Speakers
HE Mr Graham Fletcher
Australian Ambassador to the People's Republic of China
His Excellency, Mr Graham Fletcher is a senior career officer with the Department of Foreign Affairs and Trade, and was most recently First Assistant Secretary, North Asia Division. He has previously served overseas as Deputy Head of Mission, Australian Embassy, Washington; Deputy Head of Mission, Australian Embassy, Beijing; Counsellor, Australian Embassy, Beijing; and Third Secretary, Australian Embassy, Beijing. He speaks Mandarin.
Ms Heather Cotching
Chief Economist at Austrade
Ms Heather Cotching is the Chief Economist at Austrade. She has worked across five different government agencies in economics role including Prime Minister and Cabinet, Treasury, Murray-Darling Basin Authority and Department of Industry, Innovation And Science.
At Austrade Heather is responsible for providing economic information to Austrade clients and senior executives, with a focus on trade and investment. She is also responsible for leading Austrade's evaluation strategy, and the management of Tourism Research statistics, which underpin the production of Australia's national tourism statistics.
Mr Daniel Boyer
General Manager Greater China, Minister (Commercial) at Australian Trade and Investment Commission (Austrade)
Daniel is General Manager, Greater China, based in Beijing. Daniel leads a team of 111 staff across 9 offices delivering high quality trade and investment services to companies in Australia and Greater China.
Daniel joined Austrade in 2014, most recently leading the Government and Partnerships division. In his time at Austrade, Daniel has held a number of senior roles, including leading the reorganisation and restructure of the agency as the General Manager of the Positioning for our Future project.
Prior to moving to Austrade, Daniel worked in a number of Australian Government Agencies, most recently in Immigration and Border Protection (DIBP). Daniel's positions in DIBP included Regional Director East Asia, responsible for visa operations across North Asia and the Mekong economies, also based in Beijing.