Meat Industry in China Update
09-09-21 @ 4:00 pm

-

5:30 pm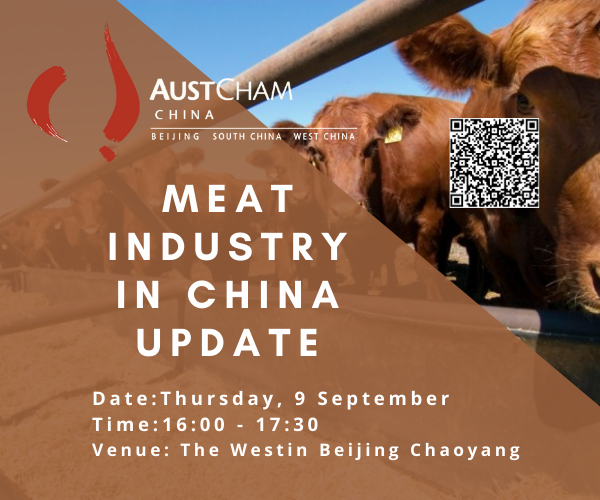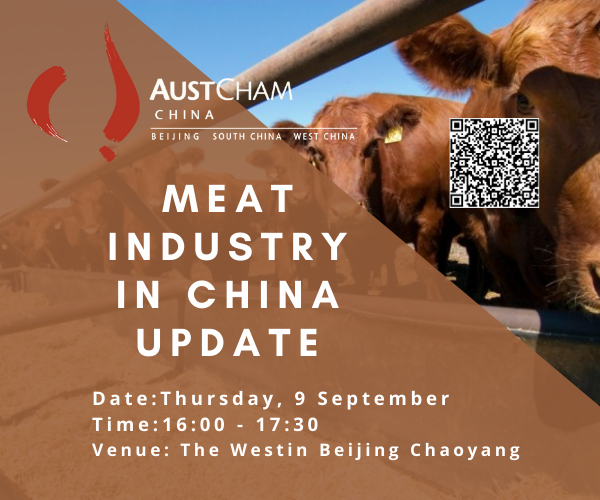 Join AustCham China for part two of the agribusiness update series.
欢迎参加中国澳大利亚商会第二次农业研讨会。
This seminar will touch upon the following themes;
本次研讨会将涉及以下主题:
An overview of meat exports to China from the EU, USA and Australia

欧盟、美国和澳大利亚对中国肉类出口概况

Trends in meat consumption in China

中国肉类消费趋势

An update on the beef market and consumer trends in China

中国牛肉市场的最新情况和消费趋势

High level insights on government policy and market access

关于对政府政策和市场准入的高层见解
Hear from speakers:
演讲者名单:
Dean Merrilees: Minister Counsellor – Agriculture, Australia Embassy Beijing

迪安-梅里尔斯:澳大利亚驻华大使馆公使衔参赞——农业分管

Dr. Juhui Huang

Vice President of Corporate Affairs, BRF Greater China

黄菊辉博士:BRF S.A.大中华区企业事务副总裁

Damien Plan: Counsellor for Agriculture, Delegation of the European Union to China

达米安-普朗:欧盟驻华代表团农业事务参赞
Moderator:
主持人:
Michael Boddington: Managing Director, Asian Agribusiness Consulting (AAC)
迈克尔-博丁顿,亚洲农业综合企业咨询公司(AAC)总裁
Event format:
活动形式:
This event will be held as a hybrid in-person and offline event. Following the roundtable discussion there will be an opportunity to socialise at the hotel bar inside The Westin Beijing Chaoyang.
本次活动将以线下会议与网络研讨会的混合模式举行。现场来宾进行圆桌讨论后,可以在北京朝阳威斯汀酒店内的酒吧进行社交活动。
Event details:
活动详情:
Date: Thursday, 9th of September
日期:9月9日,星期四
Time: 4:00PM – 5:30PM (Registration from 3:30PM)
时间:4:00PM – 5:30PM (3:30PM开始登记)
Price (In-person): 100 RMB Members | 200 RMB Non-Members, inclusive of tea & coffee
价格(现场): 会员100元,非会员200元,包含咖啡茶水。
Price (Webinar): 50 RMB Members | 100 RMB Non-Members
价格(网络研讨会):会员50元,非会员100元。
Venue: Fire Function Room, 3rd floor, The Westin Chaoyang Beijing
会议地点:北京朝阳威斯汀酒店三层火厅
Address: 7 North Dongsanhuan Road, Chaoyang District, Beijing, China
地址:中国北京市朝阳区东三环北路7号