China the new leader in climate change
From a reluctant partner and stumbling block in the previous Copenhagen climate talks, to leader come this time in Paris, China is taking a lead in a crucial issue affecting the world today and more so the future. Many promising Chinese government announcements lead to a promising outlook, an accord for the 2030 deadline in which emissions will stop increasing, creation of a national pollution trading scheme, $3.1 billion USD pledged to helping developing countries reduce emissions and now today the largest investor into green energy all have one of the most important players in world greenhouse gas emission playing onside. Click here for full article.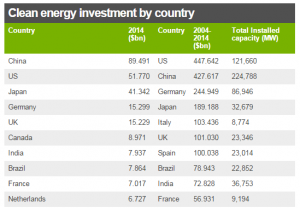 The price of a climate change conference
The cynic in some lead them to question why a climate change conference costs in excess of $1,146 million USD to host, which in turn could reforest to the effect of removing 45 million tons of CO2. However the potential imposing of a greenhouse gas tax would very much be worth it, this is still none the less and interesting take on the summit. If you tally up all the leaders method of transport required to reach Paris, the volume of champagne and sparkling water to be consumed at the event plus many more emission releasing facets to host an event like this. In excess of 10,000 tonnes of CO2 will be released, not apocalyptic, but hardly trivial. Click here for full article.
Sinopec encourages refineries to export surplus diesel
Sinopec is offering its subsidiary refineries $36.60 USD per tonne of diesel to export it. This comes as fear of an economic lull, where diesel use in mining and construction has lessened, leading to an oversupply of fuel in the domestic market. Sinopec continued production of kerosene and gasoline to feed domestic demand has only exacerbated the oversupply of diesel. Chinese diesel exports have jumped 50% for the year to date, however these only account for 4% of total diesel consumption in China. Click here for full article.
Is Australian coal cleaner than the rest?
Whilst energy output from Australian coal is definitely to a high standard, Australian coal also has a relatively large ash content. Ash content is a measure of heavy metal concentrations, all of which having health and environmental impacts. Australian thermal coal compared to its Indonesian competitor is able to produce the same amount of energy from 20% less coal; however the ash content is higher. Click here for full article.
Iron ore prices in free fall
Iron ore prices on the Singapore futures index dropped below $40 US a metric ton, a record low since trading began in 2013, similar results occurred on the Dalian Commodity Exchange where prices dropped to $45.88 a ton, also a record low. Furthermore China Iron and Steel Associations expect an almost 3% drop in steel production due to overcapacity and depressed margins. Click here for full article.