The China Internet Report 2018 released this week by Abacus, in partnership with 500 Chinese start-ups and the South China Morning Post, breaks down China's ever-expanding tech industry and its biggest players nationally and globally. There are 772 million internet users throughout China equating to around 55% of China's population have an online presence in some way. China has nearly 3 times the number of internet users as the United States but what characterises China's tech industry growth beyond just the numbers?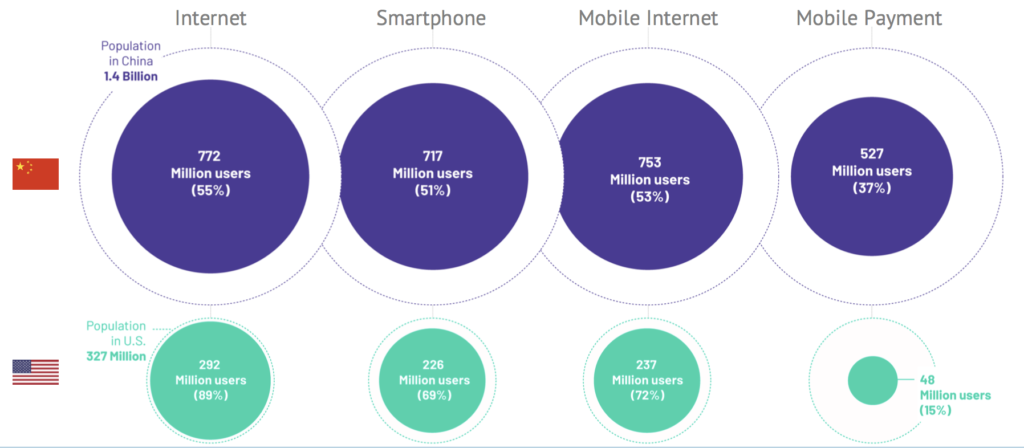 Source: US Census Bureau, Pew Research, Newzoo, Statista, eMarketer, CNNIC, IMF, via China Internet Report 2018
The report lays out 4 overarching trends that have emerged consequent to the internet expansion. These include:
Chinese internet giants are doing everything including building or investing/acquiring across the entire internet ecosystem. Giants include Baidu, Alibaba and Tencent and are present nearly in every tech sector;
Chinese Internet empowers rural population by contributing to development in economics, education and media. In 2017 there were 209 million rural internet users in China, including 55 million students that are reachable by live-stream classes and 175 million rural short video app users;
China internet companies embrace 'Social+', a model where their business is anchored by a social pillar that drives user engagement and growth;
Government is the visible hand and the success or failure in China's internet landscape is contingent upon government authority. State watchdogs have banned cryptocurrency trading, called out companies for invading user privacy, and even put a stop to quiz apps that ask "inappropriate" questions.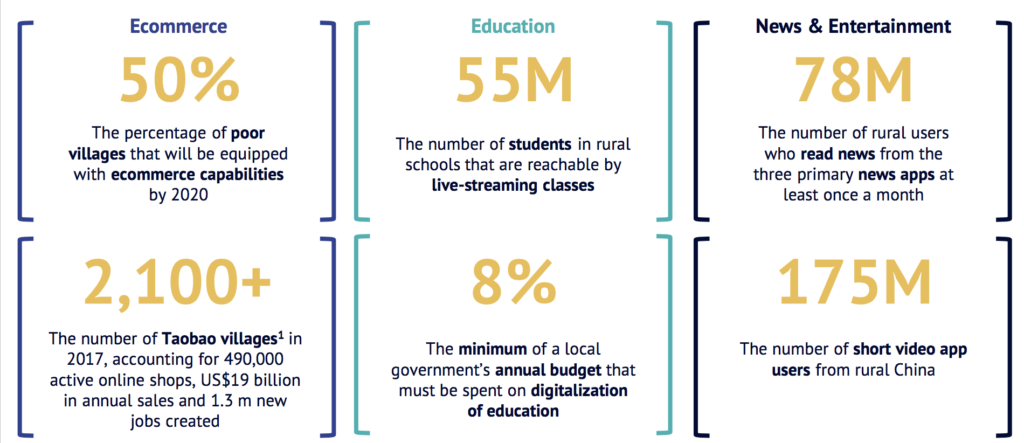 (1) Any rural village where at least 10% of households sell goods online with annual sales of at least US$1.6M
Source: Alibaba, QuestMobile, State Council Leading Group Office of Poverty Alleviation and Development, Ministry of Education, Research Institute of Rural Education at Northeast Normal University, via China Internet Report 2018
Below is a summary of the China Internet Report 2018, to read the full report click here.
Ecommerce
Alibaba (Taobao) and JD are the dominating companies in ecommerce but it is expected that there will be a rise in social commerce that allows users to partake in group purchases and Pinduoduo, the largest social commerce platform, is on a steady upturn that will continue to rise. There has also been a 73% per annum growth of online grocery markets since 2013 partly attributed to the increase of physical technology-enabled grocery stores constructed by leading online platforms.
Content and media
The new internet obsession in China is the viewing of short videos through apps such as Kuaishou, Duyin, Huoshan and Xigua. As of March 2018, the viewership of the major platforms equated 600 million active users resulting in short video viewing times more than tripling in the last year. On top of that, Douyin became the most downloaded iOS app in the first quarter of 2018 globally with over 45 million downloads.
Social and Messaging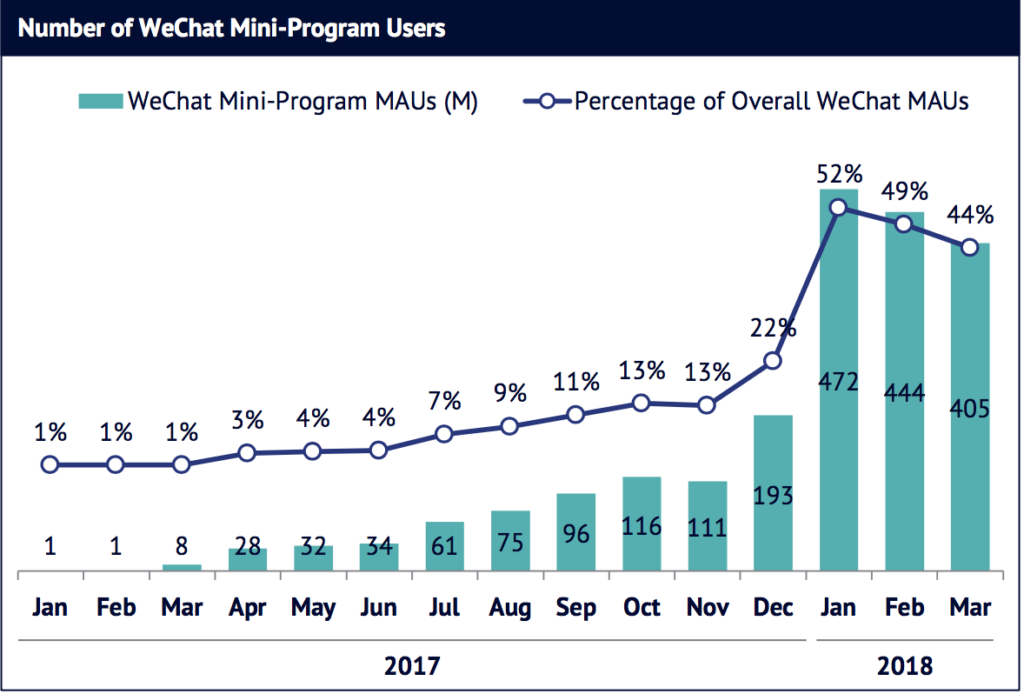 It comes as no surprise that wechat not only leads but trumps the social and messaging market as it surpasses 1 billion MAUs (monthly active users) as of February 2018. Additionally, there has been a substantial rise in the use of mini-programs in wechat with over 50% of their MAUs using the programs at the beginning of this year.
Graph source: QuestMobile , SCMP, Via China Internet Report 2018
Autonomous Cars
In 2017 Beijing became China's first city to allow open road testing for autonomous cars. This was followed by the development of smart cars becoming a national priority. Shanghai issued licences for self-driving cars from NIO and SAIC in 2018 as the National guidelines by the Ministry of Industry and Information Technology for smart internet connected cars were released. Looking into the future China is likely to emerge as the world's largest market for autonomous vehicles and mobility services worth more than US$500 billion by 2030.
 Sharing Economy
Market giant DiDi is being challenged by new competition with the rise of Meituan Dianping, Ctrip and Alibaba's AutoNavi unit. In bike-sharing, Ofo and Mobike command over 90% of the market despite there being over 40 new services created since 2016 but their pre-established dominance has resulted in more than 20 of the new start-ups going bust as of February 2018. China's leading co-working, home-sharing and bike-sharing companies have also begun their global expansion with many covering multiple countries.
Artificial Intelligence
I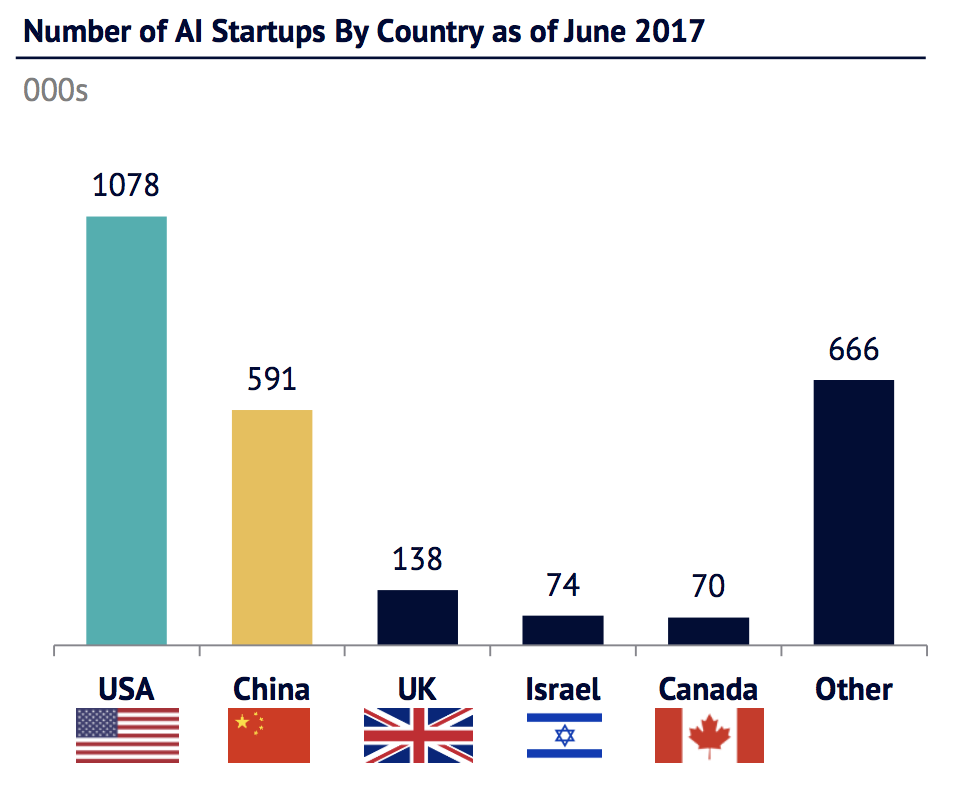 n June 2017 China drifting behind the US in regard to the number AI startups with a total of 591 compared to America's 1,078. This however, has not disheartened China's State Council with the release of their roadmap in July 2017 to create a domestic 1 trillion yuan (US$148B) and leapfrog the US as the global leader of AI by 2030. This has included the January 2018 announcement of a US$2.1 Billion blueprint to build an AI industrial park in the suburbs of Beijing and the Ministry of Education launch in April of a five-year AI talent training program. Facial recognition continues to be a leading application of artificial intelligence predominately for the improvement of security and transportation. Other applications include the enhancement of efficiency, yields and income in farming and the use of service robots across multiple industries such as ecommerce and healthcare.
Graph source: Tencent Research Institute, Via China Internet Report 2018
 Financial Technology
China's mobile payment transaction volume hit US$15 trillion in 2017 but tighter regulations have now been implemented. From November 2017, administrative order ceased the issuance of new online peer-to-peer company licenses. Regulators have also set high capital requirements, mandating the appointment of a custodian bank, full disclosure of fund information and a ban on unsecure cash loans.
 Education
As exhibited in one of the 4 overarching trends online education could be the answer to challenges students face in rural China. This includes the implementation of live-stream classes and AI enabled education.
Blockchain
Despite the ban on cryptocurrency trading, China is becoming the frontrunner in blockchain technology. Blockchain can be applied across industries in regard to healthcare patient records, supply chain, identity management, logistics, money remittance and asset tracking.
Gaming
A large portion of China's growth comes from mobile gaming with China capturing more than a quarter of global gaming software revenue, primarily driven by mobile gaming and dominated by Tencent and NetEase.
Esports
In China, more than 200 million viewers tune into Esports via live streaming each year predominantly on mobile devices.
Smart devices
There are now over 100 smart speaker developers in the country, including all of the tech giants, but the demand for them is still lacking. In 2017, only 350,000 smart speakers were sold in China, compared to 25 million in the US.
For a more information about the China Internet Report 2018 the entire report can be found online here.