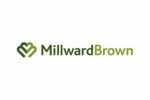 Milliard Brown has over 40 years of advertising, media, brand equity research, and consulting experience. Their brand purpose is to create meaningful impact for our clients, our business, our teams, the industry, and the global community. They have more than 85 offices in 55 countries around the world, all with the same goals and values. We're Authentic, Bold, Connected, Creative, Optimistic and Supportive.
Millward Brown is part of Kantar, WPPs data investment division. They have access to a large network of advertising, research and media agency experts around the world which strengthens their ability to help clients thrive and grow.
Their other businesses include Firefly Millward Brown (a global qualitative network), Millward Brown Vermeer (a strategy consultancy that helps clients maximize financial returns on brand and marketing investments), Millward Brown Digital (a leader in digital effectiveness and intelligence), and Millward Brown Analytics (leading marketing science and analytic consultants that use connected data intelligence to deliver strategic insights that drive growth).
Categories: Professional Services
Level 11, Unit 8, Tower E3, Oriental Plaza. No. 1 East Chang An Avenue, Dongcheng District, Beijing.100738 China
Contact Name: Christine Zheng
Position: Managing Director, Greater China
Industry: Public Relations