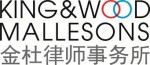 Recognised as one of the world's most innovative law firms, King & Wood Mallesons offers a different perspective to commercial thinking and the client experience. With access to a global platform, a team of over 2000 lawyers in 27 locations around the world works with clients to help them understand local challenges, navigate through regional complexity, and to find commercial solutions that deliver a competitive advantage for our clients.
As a leading international law firm headquartered in Asia, we help clients to open doors and unlock opportunities as they look to Asian markets to unleash their full potential. Combining an unrivalled depth of expertise and breadth of relationships in our core markets, we are connecting Asia to the world, and the world to Asia.
We take a partnership approach in working with clients, focusing not just on what they want, but how they want it. Always pushing the boundaries of what can be achieved, we are reshaping the legal market and challenging our clients to think differently about what a law firm can be.
Categories: North China, Professional Services
40th Floor, Tower A, Fortune Plaza, No. 7 Dongsanhuan Zhonglu, Chaoyang District
Beijing, 100020 China
Contact Name: Gillian Peng
Position: Business Development Manager
Industry: Legal Services
Working Group: Finance