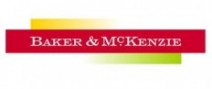 Baker & McKenzie defined the global law firm in the twentieth-century, and are redefining it to meet the challenges of the global economy in the twenty-first century.
Baker & McKenzie bring to matters the instinctively global perspective and deep market knowledge and insights of more than 4,200 locally admitted lawyers in 76 offices worldwide. They have a distinctive global way of thinking, working and behaving – "fluency" – across borders, issues and practices.
The firm understands the challenges of the global economy because they have been at the forefront of its evolution. Since 1949, they have advised leading corporations on the issues of today's integrated world market. Baker & McKenzie LLP have cultivated the culture, commercial pragmatism and technical and interpersonal skills required to deliver world-class service tailored to the preferences of world-class clients worldwide.
Baker & McKenzie have deep roots and knowledge of the language and culture of business required to address the nuances of local markets worldwide. And their culture of friendship and broad scope of practice enable them to navigate complexity across issues, practices and borders with ease.
Categories: Professional Services
Suite 3401, China World Office 2, Level 24, No. 1 Jianguomenwai Avenue, Chaoyang District

Beijing,
Contact Name: Courtney Macintosh
Position: Partner
Industry: Legal services
Working Group: Agri-business