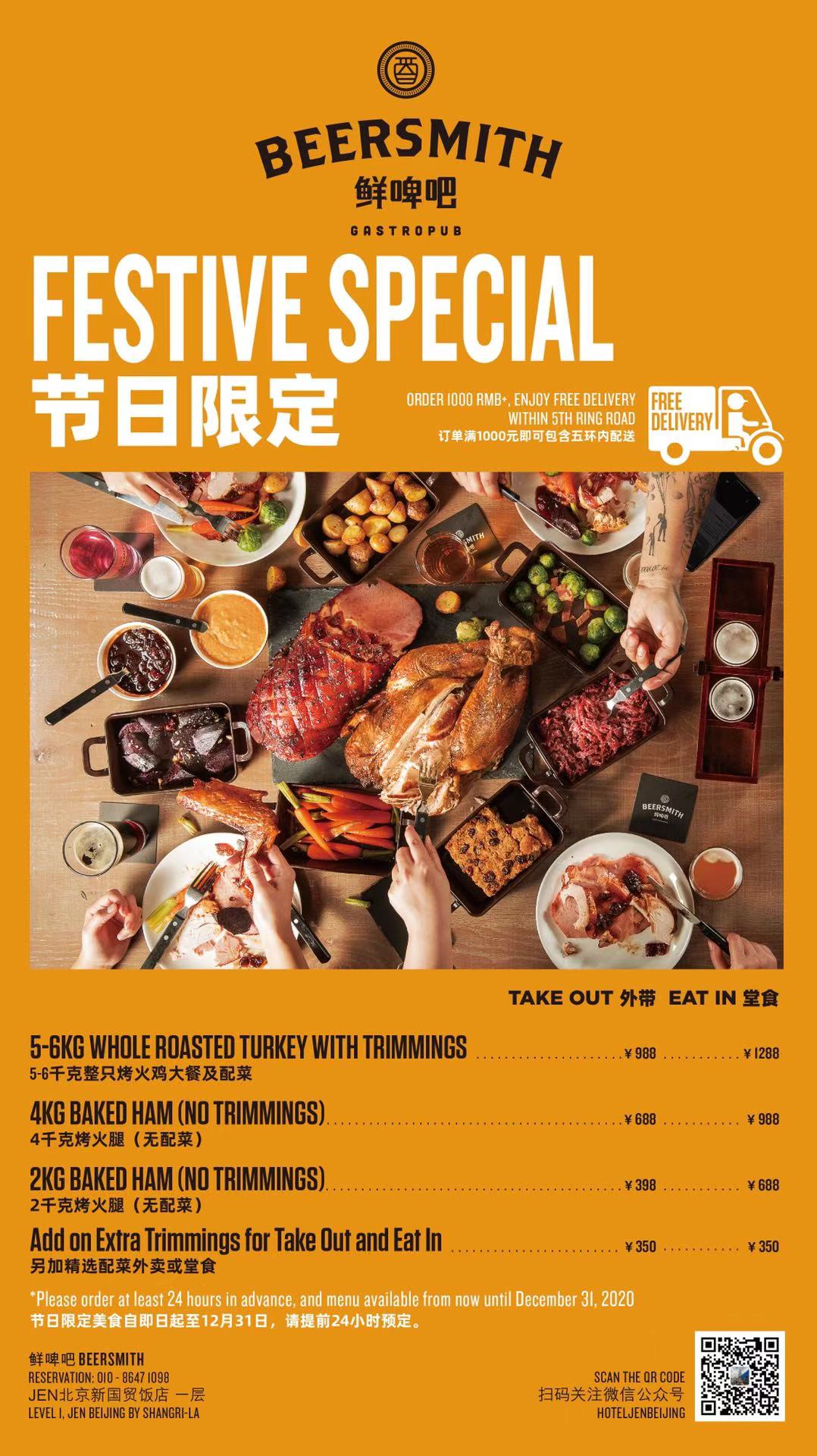 Dine-in or Take-Out: Thanksgiving Dinner @Beersmith
Stuff yourself with turkey this Thanksgiving at Beersmith. We're helping you keep things simple with Thanksgiving Dinner options for dine-in and take-out, and big group parties or intimate dinners.

Thanksgiving Day Dinner

Things are getting festive inside JEN Beijing. Beersmith's chef has prepared a Thanksgiving Day dinner with all the fixings. Start off with a pear arugula salad, then choose from traditional roasted turkey or Drunken Turkey, steeped in Beersmith Pumpkin Ale and brandy. For sides, expect all the classics like roasted potatoes, sautéed Brussels sprouts and chestnut and cranberry stuffing. For small parties of two or more, we're offering delicious slow-roasted bacon wrapped turkey with sides and sauces.

Turkey to Home
Want to stay home? Skip the cooking and order our Traditional Turkey Dinner for delivery. Feast on juicy roasted turkey, baked ham and delicious sides and sauces. Enjoy free delivery within 5th Ring Road on orders of RMB1,000 or above.
Beer Pack
It wouldn't be a Beersmith holiday without fresh craft beer. Add a four-pack with your delivery. Choose from our Classic Pack with two Weissbiers and two IPAs; Festive Pack with two Imperial Pumpkin Ales and two Ciders; or the Hoppy Pack with two Hazy IPAs and two Blood Red IPAs.
Whatever you're up for this Thanksgiving, Beersmith has you covered with great food, fresh beer and good vibes. Menus are available for large groups, or small parties of two. Please book your spot at least 24 hours in advance.