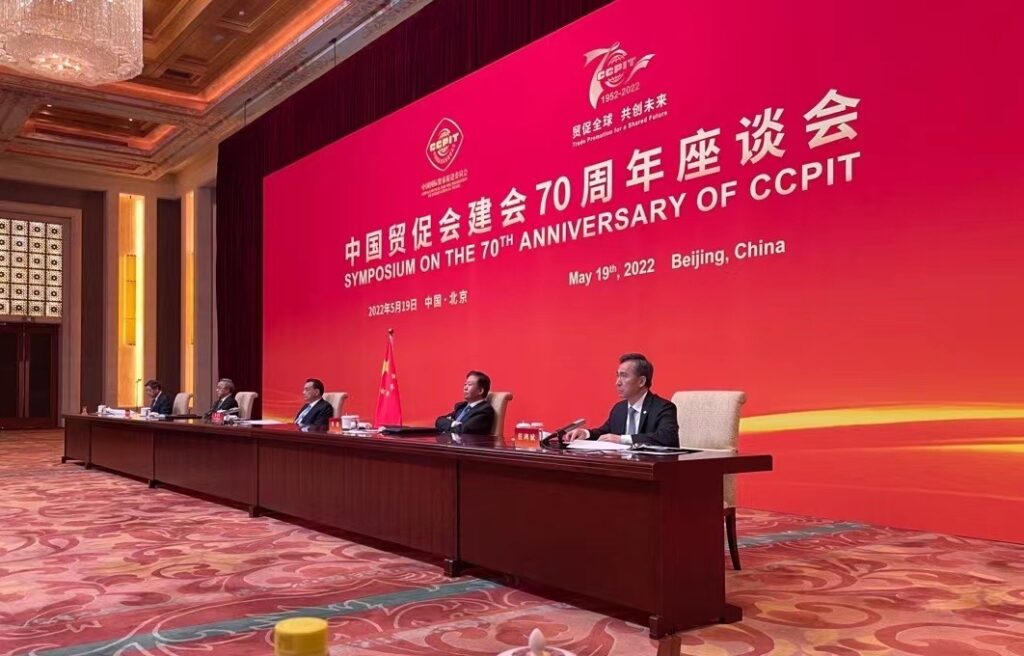 On Thursday, 19 May 2022, AustCham Chair Vaughn Barber participated in the "Symposium on the 70th Anniversary of CCPIT" (China Council for the Promotion of International Trade) at the Diaoyutai State Guest House together with other heads of nearly 30 foreign chambers of commerce, institutions, and multinational companies. The Symposium was attended by Premier Li Keqiang, Vice Premier Hu Chunhua, State Councilor and Secretary-General of the State Council Xiao Jie, Minister in charge of the National Development and Reform Commission He Lifeng and Chairman of the CCPIT Ren Hongbin.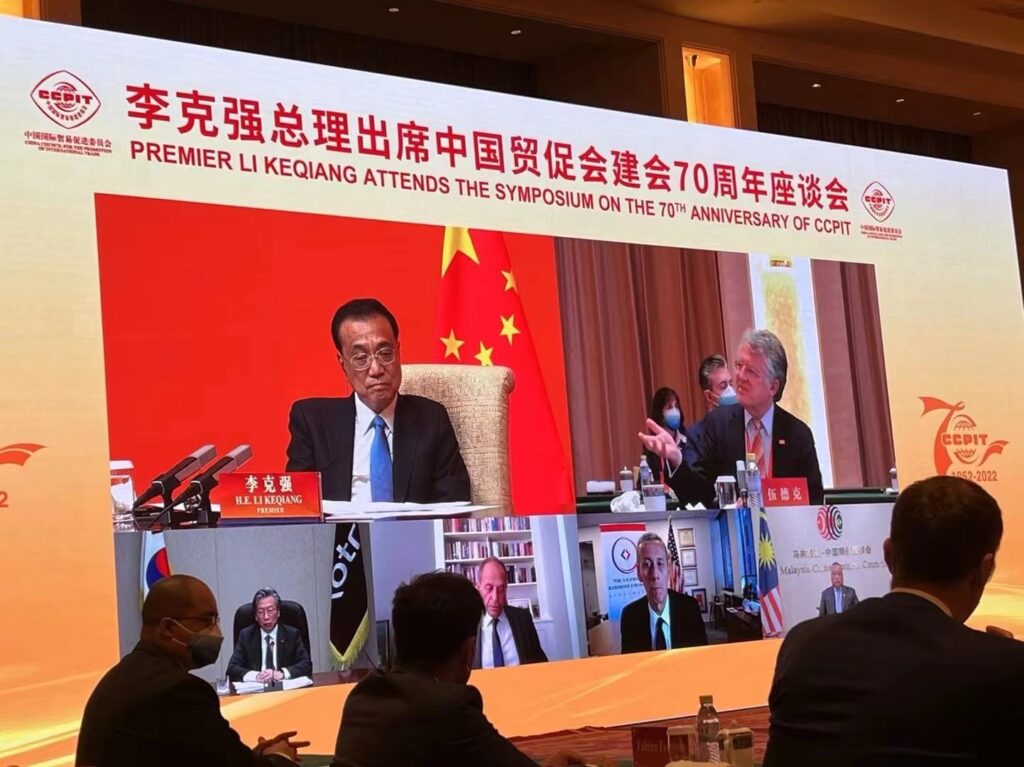 Foreign participants paid tribute to the achievements of CCPIT in promoting trade, two-way investment and economic and technological cooperation between China and the rest of the world and pledged to continue and deepen cooperation. Given China's contribution to global growth, the world needs China to succeed. Representatives from foreign chambers of commerce in China shared perspectives and experiences about the impact that current epidemic prevention and control policies are having on foreign business sentiment, investment, and operations in China, also referring to the results of recent business surveys. If supply chains remain impacted due to continued lockdowns, manufacturers could begin to diversify and move supply chains to other locations. While it is not feasible to open-up and "live with" the virus yet, policies are needed which increase the stability and predictability of business conditions, while limiting health risks to the population.
Noting the profound and complex developments in the global and regional landscapes, as well as the significant impact which the Covid-19 pandemic, geopolitical conflicts and other factors have had on global trade and the well-being of humanity, Premier Li underscored China's willingness to work with other countries to preserve the stability and smooth operation of global industrial and supply chains. The premier acknowledged the impact that the pandemic was having on the production and operations of foreign companies in China. At the same time as pursing epidemic prevention and control measures, the relevant government departments and local authorities are taking proactive measures to help these firms resolve problems in resuming work and normal production, enabling employees to travel to China, and logistics and transportation. Premier Li said that companies' production and operations cannot afford to stop and committed that the government will continue to address the common concerns of foreign companies by working to find problems to difficulties encountered and provide better services.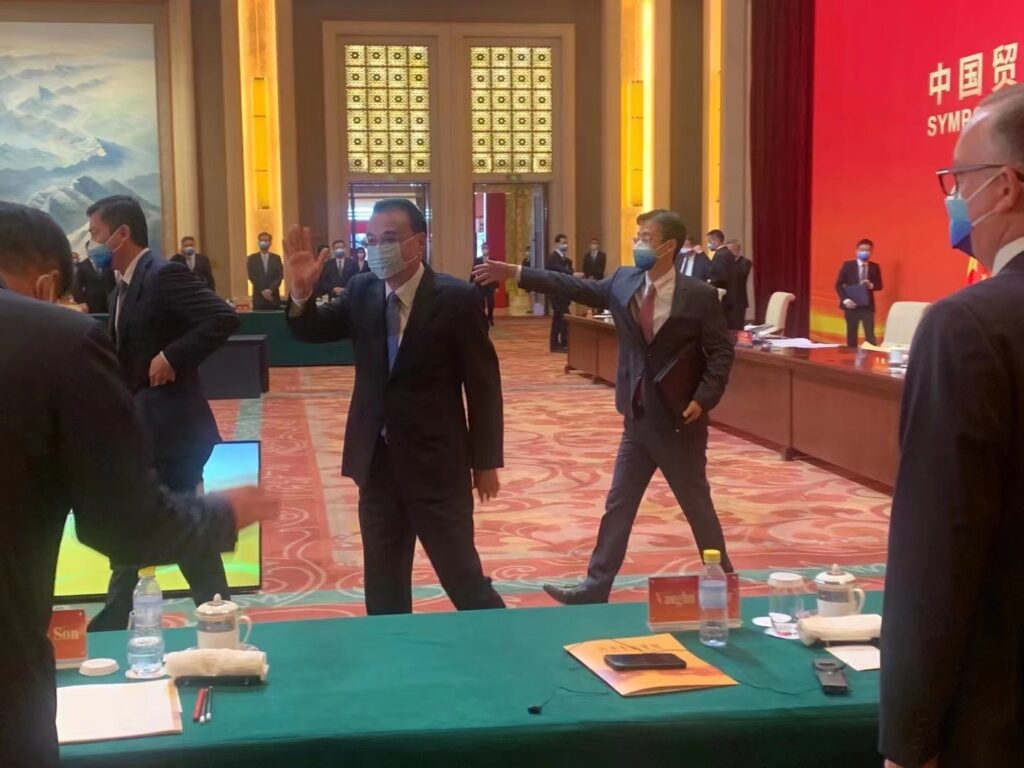 The potential of the China market is huge with significant room for various types of investment. Every year China's manufacturing sector imports large numbers of key components, equipment, and raw materials. China also imports a variety of agricultural products to satisfy the rising standard of living of its people. To develop its advanced manufacturing and modern services sectors, China needs to import more and draw on the experience and knowledge of other countries. In this regard, the premier said that China is ready to increase communication and cooperation with companies of all countries to enhance mutual understanding, expand common ground, properly handle differences and disagreements, and achieve mutually beneficial, win-win outcomes.
Premier Li stressed that China's pursuit of modernisation, which is aimed at delivering better lives for its more than 1.4 billion people, depends on reform and opening-up. As such, irrespective of how the international landscape evolves, China will stay committed to greater opening-up. China's door will only open more widely. Premier Li reiterated commitments to continue deepening reforms to streamline administration and delegate power, improve regulation, and upgrade services; create a market-oriented, law-based and internationalized business environment; develop transparent, stable and predictable rules relating to supervision and regulation; expand market access and ensure foreign companies' lawful and equal access to fields that have been opened; and strictly protect intellectual property rights. Premier Li assured attendees that China will continue its efforts to develop itself into a major market of the world and a popular destination for foreign investment.
AustCham welcomes Premier Li's important remarks and looks forward to working with CCPIT to help member companies overcome current challenges and capture emerging opportunities.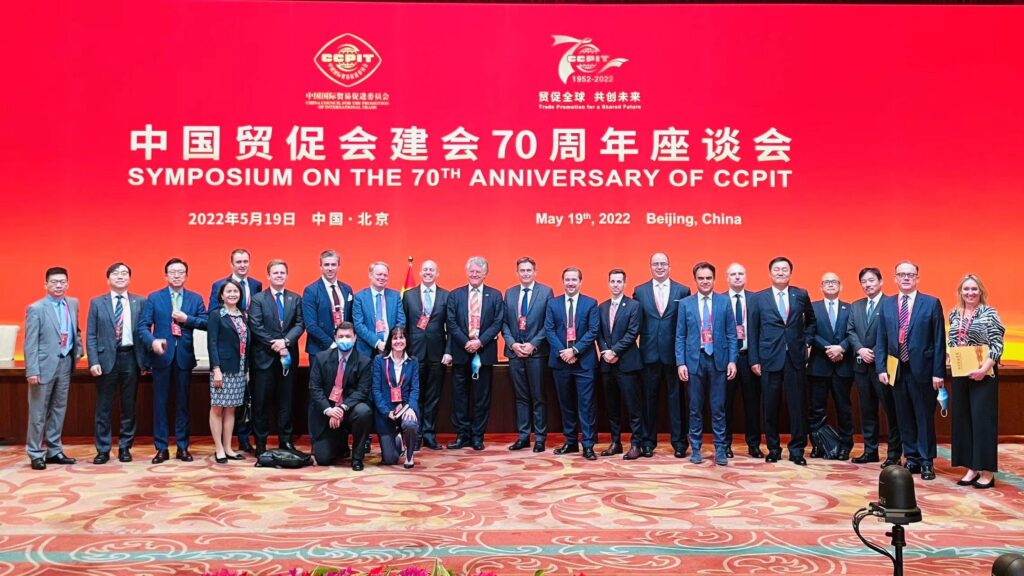 23 May 2022