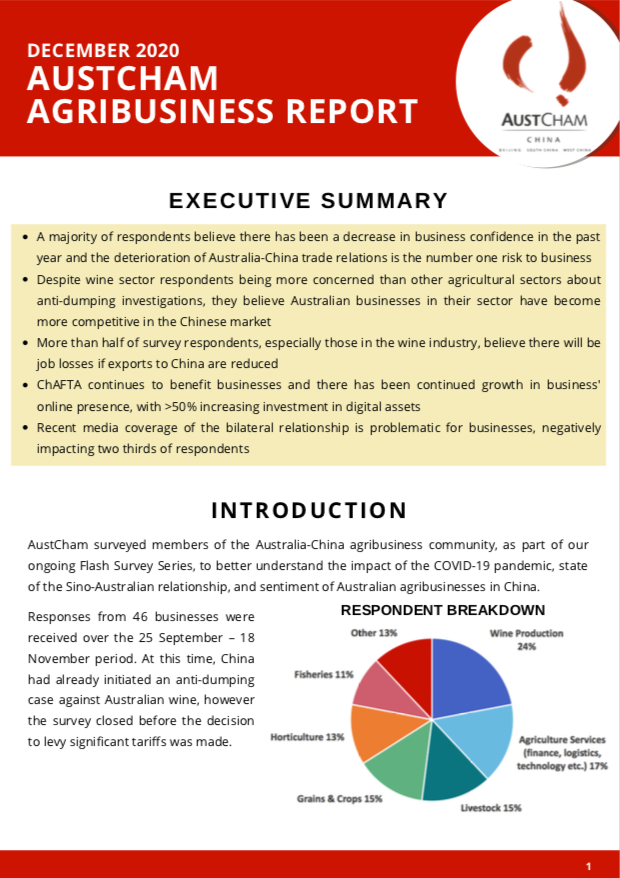 Fears of job losses rise, as Australia's exports fall, with the wine industry hit hardest
Australian Chamber of Commerce Beijing: Agribusiness Survey Report – 15th December 2020
BEIJING, 15th December 2020—The majority of Australian agribusinesses operating in China or exporting to China registered a significant decrease in business confidence over past months, as bilateral relations have plummeted with China. "Our members are fearful of significant job losses to come, particularly from those in the wine industry, as Chinese imports from Australia are curtailed," noted Nick Coyle, CEO of AustCham China.
The downbeat sentiment is a result of a series of Chinese government decisions to block Australian agricultural products, based on technical phyto-sanitary issues and allegations of dumping.
Import diversion is also considered as a key risk for Australian companies, as China restricts sourcing from Australia, shifting to agricultural and wine exporters from other countries, including the U.S.
The survey highlighted a significant shift in attitudes with regard to investment. AustCham members have become more negative with respect to policy changes for Chinese inbound investment to Australia. "Only 30% of respondants agreed with the recent tightening of restrictions by the Foreign Investment Review Board (FIRB), while 44% of AustCham's survey respondants actively disagreed. "There are knock-on effects from FIRB decisions; as FIRB tightens and the relationship deteriorates more roadblocks will be thrown up for Australian companies investing and trading in China," noted Tom Luckock, ViceChair of AustCham China and the chamber's Food and Agribusiness Industry Forum.
These were the main findings of a recent survey conducted by AustCham China.
On 15th of December, AustCham China released its Agribusiness Survey Report, conducted between the end of September to mid-November, based on a survey of company and association members from agribusiness sectors. The survey aimed to identify and understand the impacts of the COVID-19 pandemic, the state of Sino-Australian bilateral relations, and the sentiment of Australian agribusinesses in China. Although the Chinese government had already initiated an anti-dumping case against Australian wine during the duration of the survey, the survey closed before China's decision to levy significant tariffs was announced.
Key findings from the survey demonstrate that the majority of respondents felt a decrease in business confidence over the past year. Respondents from the wine sector believed that Australian producers had become more competitive in their sector prior to the levy of high tariffs, but were the most concerned compared to other agricultural sectors about anti-dumping investigations. More than half of survey respondents, particularly those in the wine industry, believe there will be job losses if exports to China are reduced. Notably, support for the past tightening of foreign investment by Chinese companies has dropped significantly.
The Chamber has an active Food and Agribusiness Industry Forum which meets regularly, in person and virtually, formally and informally, with a wide network of members with experience in the food and agribusiness sectors based in China. It remains ready to support Australian agribusinesses in China.
Surveys and reports are used in conjunction with previous Doing Business in China (DBIC) reports and ongoing member engagement to help AustCham China better advocate for Australian businesses through the COVID-19 pandemic and beyond.
Australian businesses internationally are battling unprecedented times of uncertainty and market volatility. AustCham China continues to support the Australian business community in China through advocacy, regular webinars and updates across its social media channels (WeChat/Weibo/email newsletter/LinkedIn) as China's economic recovery progresses.
About the survey
AustCham China received nearly 50 responses from agribusiness companies and agricultural associations in China and Australia. The survey asked questions related to Australian businesses' sentiment and attitudes, the impact of the present situation on their businesses, use of various distribution channels, including e-commerce and perspectives of Australia's inbound investment review policies.
For any inquiries related to the reports or surveys, please contact Nick Coyle, CEO of AustCham China (Nick.Coyle@austcham.org).