2023 AustCham China Board Nominees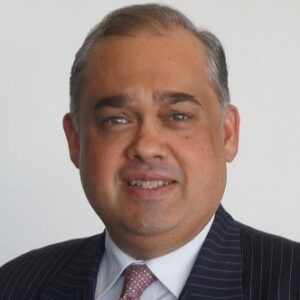 Christopher Neil
CEO | FST Innovation
Christopher Neil is the global Chief Executive Officer of FST Innovation (FSTi).
Christopher has extensive experience having held senior management positions with multinational companies in various industries, including Foster's China, The Great Wall Sheraton Hotel and holds directorships with multiple companies. He is a regular keynote speaker and advises Australian companies on their China strategy, engagement and representation. Christopher has expertise spanning all aspects of business from the conceptual, due diligence and feasibility stages to financing, marketing and commissioning.
Christopher has proven success in assisting clients on entering and engaging with the Chinese market. He founded Orient Group and its subsidiaries to assist international and domestic Chinese companies/individuals grow their businesses.
Orient Group is invested in the following companies with Christopher holding various positions: Chief Executive Officer, FST Innovation Pty Ltd – fire suppression technologies with multiple patented designs for innovative fire sprinklers and suppression systems; Director, Aeyons Pty Ltd – music tuition and training and represents the Australia.
Drawing on my extensive 25-year experience in China, I am delighted to express my candidacy and honoured to be nominated for the Director position on the Board of the China-Australia Chamber of Commerce. Currently serving as the global Chief Executive Officer of FST Innovation Ltd, I bring a wealth of leadership and business acumen to this role. My extensive experience navigating the intricate landscape of cross-cultural business uniquely positions me to contribute valuable insights and strategic direction.
Furthermore, I plan to spearhead educational programs, equipping entrepreneurs with the cultural competence needed for successful cross-border ventures. Leveraging my network cultivated over decades, I intend to attract key industry players to our Chamber, ensuring it remains a dynamic hub for impactful connections and knowledge exchange.
In essence, my vision for the China-Australia Chamber of Commerce is one of growth, inclusivity, and prosperity. I am eager to channel my wealth of experience into this pivotal role, driving the Chamber towards new heights of success and influence in the evolving global business landscape.
My active involvement on the boards of several Australian companies engaged in China underscores my commitment to fostering strong ties between the two nations. In my capacity, I continue to play a pivotal role in facilitating meaningful engagement, bridging the gap between Australian enterprises and the dynamic Chinese market.
If elected, I will leverage this multifaceted experience to drive initiatives that not only benefit individual businesses but contribute to the broader economic prosperity of both countries. My unique position allows me to seamlessly integrate insights from the corporate world into the Chamber's strategic vision.
My foremost objective is to strengthen bilateral economic ties, facilitating increased trade and collaboration between Chinese and Australian businesses.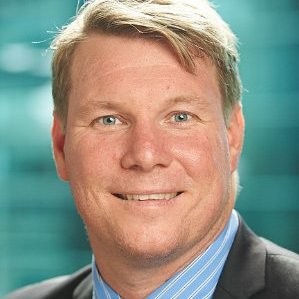 Craig Pasch
Country Chair, China | Woodside Energy
Craig is a global oil and gas practitioner with more than 15 years oil and gas experience. Previous senior roles at Woodside include Wheatstone Asset Manager, South Korea Country Chair, Manager of Government and Media Relations and Project Manager for Organisational Effectiveness.
Craig has extensive international work experience including working engagements in the United Kingdom, South Africa, Botswana and Malawi prior to joining Woodside.
Craig was awarded a Vincent Fairfax Fellowship through the St James Ethics Centre in 2007.
From 2015-2020 Craig served on the Australian Chamber of Commerce (Korea) Board of Directors. Additionally, Craig has had roles on boards and advisory groups including as a Taskforce Co-Chair with IPIECA, the global oil and gas association for environment and social issues.
He has a Master of Business Administration, a Graduate Diploma of Management, a Graduate Certificate Sustainability Management Policy and a Bachelor of Education.
As the China Country Chair and Chief Representative of Woodside Energy there is a sense of duty to contribute to the Australian business community in China, with a particular focus on Beijing where our Representative Office is located.
Woodside is a founding partner of AustCham in China and as such there has been a long-term relationship between our organisations. I would like to play a role in the future engagement and contribution to AustCham as a member of the Board.
My employer, Woodside is a global LNG company, founded in Australia. We have more than 35 years of operating experience in both domestic gas and LNG supply. Woodside has been active in engaging with the Chinese economy. We were one of the companies that collaborated with Chinese partners to pioneer the Chinese liquified natural gas market. In-fact the very first cargo of LNG delivered to China in 2006 was from the Woodside operated Karratha Gas Plant in Western Australia.
My objectives for participating on the AustCham Board has a primary focus on the areas of:
Traditional energy (specifically oil & gas)
Transition to lower carbon energy supply
New Energy initiatives
I was fortunate to serve on the AustCham Korea Board for a period of 5 years (2014-2019), including a period as the Vice Chair. The experience on this board provided me with insights into how AustCham has an important role contributing to the Australian business community in markets outside of Australia.
I would like to leverage both my professional experience in the energy sector and former roles within a similar regional AustCham organisation to make a positive contribution to AustCham China.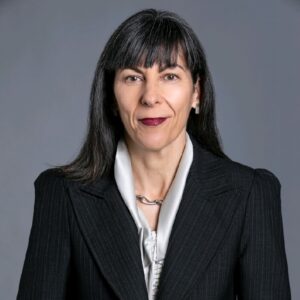 Helen Sawczak
Senior Trade & Investment Commissioner Greater China | Investment NSW
Helen Sawczak is the Senior Trade and Investment Commissioner for Greater China. She is the most senior representative of the NSW Government in China and leads the China network which includes staff in Shanghai, Guangzhou, Taipei and Hong Kong. Helen helps NSW businesses access the Chinese consumer market, and promotes international education, tourism and investment into NSW. Helen started her career as a corporate lawyer at international law firms in Australia and overseas. In Australia, Helen worked in the China practice of MinterEllison, and then moved to Moscow and Kazakhstan to work for Clifford Chance.
After returning to Australia, Helen worked as in-house counsel with Alcoa and Telstra, and then moved into executive management roles at Australia Post and ANZ Bank before being appointed as National CEO of the Australia China Business Council. Helen studied Mandarin throughout her secondary and tertiary education, which included long-term study trips to Nanjing University and Fudan University in Shanghai.
Helen is a Director of AustCham China in Beijing. Helen is also a passionate advocate of gender and cultural diversity and acts as a mentor.
As Senior Trade and Investment Commissioner Greater China for Investment NSW I assist NSW businesses to export to China, and attract Chinese investors, tourists and students to NSW. In this role I work closely with other States and Territories, the Federal Government, and various stakeholders to promote bilateral relations.
China-Australia Chamber of Commerce (AustCham) is one of these important stakeholders. AustCham is a key player in fostering and enhancing the bilateral business relationship between China and Australia. It provides a powerful voice and platform for Australian businesses and professionals in China.
As a Candidate Director I hope to contribute to AustCham's important mission by utilising my business and government network to extend its scope and reach.
I hope to utilise my corporate governance experience to support the Executive Team to ensure AustCham maintains best practice in administration and compliance.
I also hope to support the Chair and Board to work collaboratively as a team to generate ideas and strategies for AustCham to adapt to the dynamic challenges which we face as an organisation to ensure business bilateral relations between Australia and China continue to be enhanced.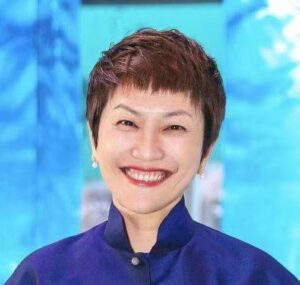 Kitty Liu
Managing Director, China | Blackmores
Proven, purpose-led leader with a strong pedigree in brand marketing, strategic innovation, and digital transformation with omni-channel. Battle-tested, with deep experience in transforming businesses to the successful exit of acquisition. More than 25 years in multinational companies, like Unilever, Yum! China, Reckitt Benckiser, General Mills, and Blackmores.
Internationally minded and with first-class expertise in Greater China. Committed to delivering growth with sustainability despite of headwinds and uncertainty facing China market. Actively partnered with NSW on the 6th CIIE and promoted the continuous commitment and confidence of Australian businesses and Blackmores to China market.
Blackmores has been the representative for Australian VMS industry in high profile China government events inclusion of CIIE, Hainan Expo and one key meeting of The Third Belt and Road Forum for international Cooperation. In addition, Kitty also serves as a director of the Shanghai Foreign Investment Association
Committed to operating with authenticity and cultivating talents for the future. Beyond the label, a diamond coach for NGO Global Women Connect and a mother of two.
The objectives Kitty wishes to achieve, if given the opportunity to serve on the AustCham China Board, include:
Advocate for policies and regulations to improve market conditions for member businesses in China.
Facilitate networking among Chamber members and stakeholders, especially with China government stakeholders.
Bring specific information and insights to Chamber members about running a business in China.
Promote bilateral trade between Australia and China.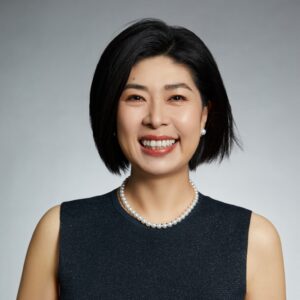 Nancy Yu
Director, China Centre | The Australian National University
Ms. Nancy YU joined in the Australian National University (ANU) China Liaison Office in November 2018. She is the Director of the Australian National University China Centre and runs two ANU offices in Beijing and Shanghai.
Leveraging her 20 years higher education industry and government department working experience, Nancy is responsible for deepening and strengthening the university's China engagement through student pathways, alumni relations, social media development and industry engagement. Nancy works closely with professional organizations, enterprises, institutions & schools, and alumni associations to develop opportunities for ANU students and graduates.
Before ANU, Nancy worked for the British Embassy in Beijing, then transitioned through several roles in the Australian higher education and Australian community in China.
Nancy holds a Master Degree in Applied Linguistics from the University of Essex, UK and is specialized in strategic communications, governmental affairs and partnership relations with international experience.
As the Director of the Australian National University China Centre, I understand the importance of Australian Higher Education to China and the other way around. Education industry is one of Australia's pillar trade and investment sectors to China. It is crucial to keep the leading position in this very competitive market. Seeing the dramatically increased needs and unprecedented development opportunities after the recent visit of the Prime Minister, I see a golden window opened to Australian Education sector in China.
My objectives are simple and straight forward. I aim to leverage my resources and my expertise to facilitate, coordinate and elevate the whole industry partners in China to a new level.
My objectives include:
Improve and maintain an active education partners network connecting relevant stakeholders, e.g., Universities, International Schools, Training organization and professional bodies.
Share and coordinate the resources to better serve members.
Be the representative and work with all education sector colleagues to amply our voice in the market by attending or organizing public events.
Working with the Embassy and Consulate Generals, Universities academia to
promote Australian culture and history by hosting workshops and events.
Increase the awareness and exposure of different tiers of Australian education to Chinese public by integration of media resources.
As a female, I would invite female leaders, young female talents, female alumni, within our own community and across foreign commerce chambers to elevate the discussion on gender equality, women's leadership, women's competence, etc.
Working in the industries for 20 years, I am confident that my capability and my passion in education industry make me a competitive candidate for this role. With no doubt, those can help the Chamber and our members achieve more in China.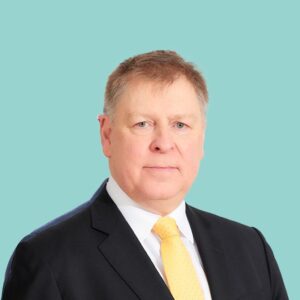 Russell Brown OBE
Vice Chairman / Partner | Acclime Group
Mr. Russell Brown OBE is Vice Chairman and Partner of Acclime Group, a regional corporate services firm. In 2001 Russell founded LehmanBrown International Accountants, a China‐focused accounting, taxation and business advisory firm employing around 200 professionals. LehmanBrown merged into Acclime Group in 2021. At LehmanBrown Russell was the Managing Partner.
Russell has over 36 years working experience including 27 years living in China and involved establishing and developing businesses in China. Prior to founding LehmanBrown Russell was Global CFO of one of the world's largest public relations and communications consulting companies and prior to this their Asia Pacific Regional CFO.
He currently acts as advisor to international companies entering the China market and to Chinese companies venturing abroad. He has advised in a wide range of industries and business situations in China and Hong Kong. He is also a frequent speaker at conferences and seminars on cross border taxation, accounting and doing business in and with China and Hong Kong.
He is currently Treasurer of the British Chamber of Commerce in China and Treasurer of the Australian Chamber of Commerce in China. He has previously held various positions including Chair and Vice Chair of the British Chamber of Commerce in China, Vice Chair of the China‐Britain Business Council (CBBC), Chair and Director of the Asia Transformation and Turnaround Association. He is also an Honorary Member of The 48 Group Club.
Russell gained a BA (Hons) in Business Studies from Bournemouth University, is a Fellow of the Chartered Institute of Management Accountants (CIMA) in the UK and a Fellow of the Institute of Chartered Accountants of England and Wales (ICAEW). He is also a Certified Global Management Accountant. Russell was awarded an OBE (Officer of the Order of the British Empire) for services to British Business and the British Community in China in Queen's Birthday Honours in June 2015.
Acclime (and LehmanBrown prior to merging with Acclime) have been an active member of the Chamber since around 2003, and I have been on the board of the Chamber for eight years now, acting in the role as Treasurer.
I have been in this role for a number of years now, through good times and the difficult times during Covid, geopolitical tensions and economic slowdown. It is critical for the Chamber during these times to have a good team to steer it through the various storms it may face. The financial management of the Chamber is a key part of this, not just in terms of its accounts, but its navigation through the turbulent waters, planning and knowing how to sail through them. And during good times to manage the financials for the benefit of the members and Chamber, such as cashflow planning for larger events.
I am a Fellow of ICAEW and CIMA. I have experience in helping many membership organisations in China and am also very familiar with the Chamber's operations. During the next year I plan to continue to help strengthen the chambers financial position, to continue to improve forecasting and tracking systems and to be a key part of the Board in further development of the chamber.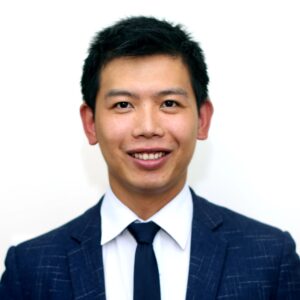 Tian Zhang
Senior Account Manager | Sandpiper Communications Beijing
Tian Zhang has over 8-years experience developing, managing, and executing communications programs for financial institutions across the Asia Pacific region, as well as helping A/H listed companies in their 'go-global' campaigns.
Currently, Tian is helping multinational companies operating in China and
local Chinese companies craft corporate messaging, build thought leadership and promote brand awareness. Tian's experience enables him to help multinationals navigate China's unique and highly regulated media environment, while assisting A/H listed companies implement best practices while engaging with international media. He has provided high-value strategic communications, public relations, investor relations and social media support to companies like Munich Re, LSEG, Linklaters, Morgan Stanley, Huatai Securities and China Life Insurance.
Earlier in his career, Tian worked at China Daily as a digital editor, enabling him to provide clear and pragmatic advice when engaging Chinese media. His time at China's leading English language media outlet also provides an understanding on how to craft messages suitable for the local China market.
If elected as an AustCham board member, my primary focuses will be to continue leveraging my deep understanding of the China media environment and assist in increasing the share of voice for AustCham China in traditional media, while also continuing to share my expertise to enhance AustCham's owned media platforms, particularly WeChat.
Increasing Share of Voice in Traditional Media
Leveraging China's Media Landscape: Drawing upon my extensive experience and insights into the China media landscape, my primary objective is to boost AustCham China's share of voice in traditional media outlets. This involves actively seeking opportunities for media coverage, interviews, and editorial contributions.
Media Engagement Strategy: I will work closely with the board and the secretariat to develop a comprehensive media engagement strategy. This strategy will encompass identifying key topics, thought leadership opportunities, and timely responses to industry developments, ensuring AustCham China's and its members' perspectives are prominently featured in relevant news and publications.
Messaging Alignment & Translation: To ensure a consistent and compelling narrative, I will collaborate with the team to align our messaging with AustCham China's members' objectives, values, and initiatives. My proficiency in both English and Chinese will also help our messaging resonate better in the Chinese language publications, to enhance our credibility and reputation in traditional media.
Enhancing Owned Platforms
Technology Integration: I will continue to share my expertise and knowledge regarding tools and technologies available to enhance AustCham's owned platforms. This includes implementing innovative features, plugins, and designs to improve user engagement and experience on platforms such as WeChat.
Content Strategy: I will collaborate with the secretariat to develop a comprehensive content strategy for 2024. This strategy will encompass content creation, curation, and scheduling to ensure a consistent and impactful online presence for AustCham.
Training and Implementation: As part of my commitment to this objective, I will continue to provide training and guidance to the secretariat and relevant staff members, enabling them to effectively utilize the available technologies and maximize their potential for AustCham's benefit.
By focusing on these two objectives, I aim to elevate AustCham China's media presence and leverage technology to enhance our owned platforms. These efforts will contribute to the chamber's reputation, engagement with stakeholders, and overall mission of facilitating and promoting the Australian business community in China.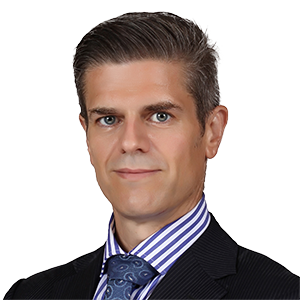 Tom Luckock
Partner | Norton Rose Fulbright LLP
Tom Luckock is a projects lawyer and Partner at Norton Rose Fulbright LLP, based in Beijing. With over two decades of experience, Tom specializes in energy and infrastructure projects, demonstrating expertise in navigating complex international transactions. He began his career at Norton Rose Australia before moving to Beijing, where he has been based for more than twenty years.
Tom is recognized as a recommended practitioner in the Legal 500, IFLR 1000, and Chambers and Partners editions spanning from 2009 to 2022. His commitment to fostering strong international business ties is evident through his role as Deputy Chair of the China-Australia Chamber of Commerce.
Tom's impressive portfolio of recent transactions showcases his prowess in handling high-profile projects. From financing and developing a cobalt processing facility in the Congo to advising on the acquisition of significant renewable energy projects across the globe and advising major financial institutions such as ERG, Standard Chartered Bank, and ICBC on diverse projects.
Tom Luckock's commitment to excellence and his invaluable contributions to the legal profession make him a standout figure in the international projects and energy sector.