FESCO INTERNSHIP PROGRAM
– Available now, all nationalities!
AustCham China has partnered with FESCO (Beijing Foreign Enterprise Human Resources Service Co., Ltd), the leading HR services provider in China, to provide the only internship program in China that guarantees a 100% legal intern visa for students. This program is available for people of all nationalities and will secure interns a placement in a fortune 500 company in China and provide support in terms of accommodation, insurance, and most importantly, a completely legal intern visa.
FESCO AustCham China Brochure Registration Form
For more details, contact AustCham China Events & Projects Manager Fiona Wu at fiona.wu@austcham.org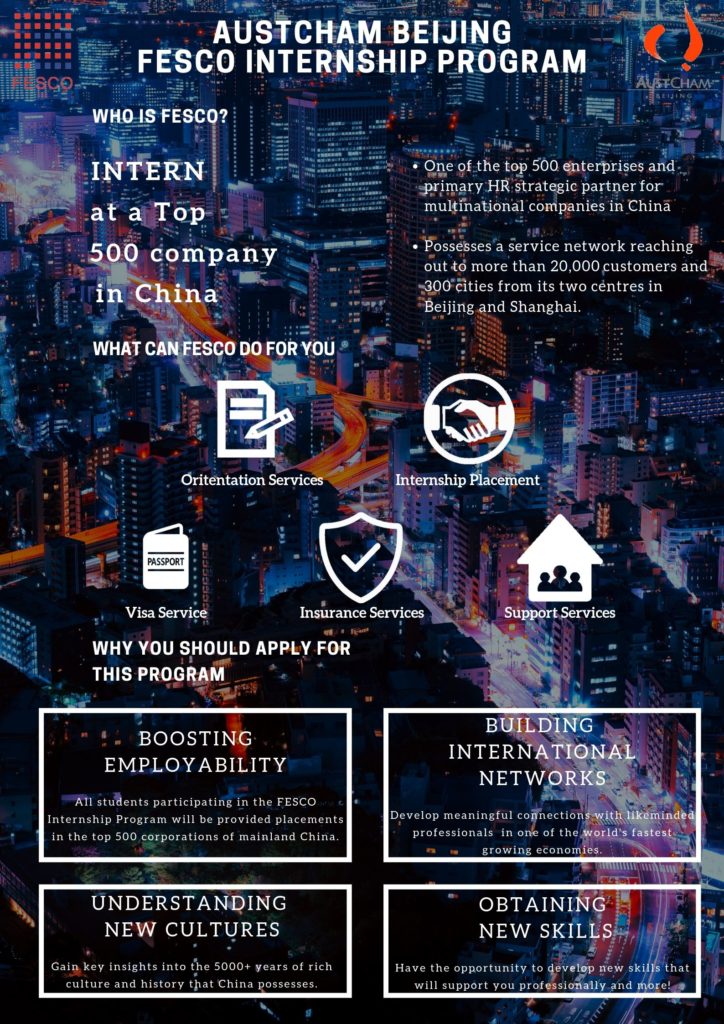 Program costs:

the FESCO internship program package includes all of the following. Accommodation may be included as per below. A stipend may be available from your placement company to cover some of the cost.
Visa Processing Services
Three-month internship placement at FESCO Top 500 Member Company
One-day Orientation
Accommodation (three months)
Mentor/Support Services (to help student when living and working in Beijing, mediate any problems that may arise)
Total
14,000 RMB
Total
(with Accommodation)
26,000 RMB