Post-Event Update | Resetting China's Growth Model
07-03-20 @ 10:00 am

-

08-04-20 @ 11:00 am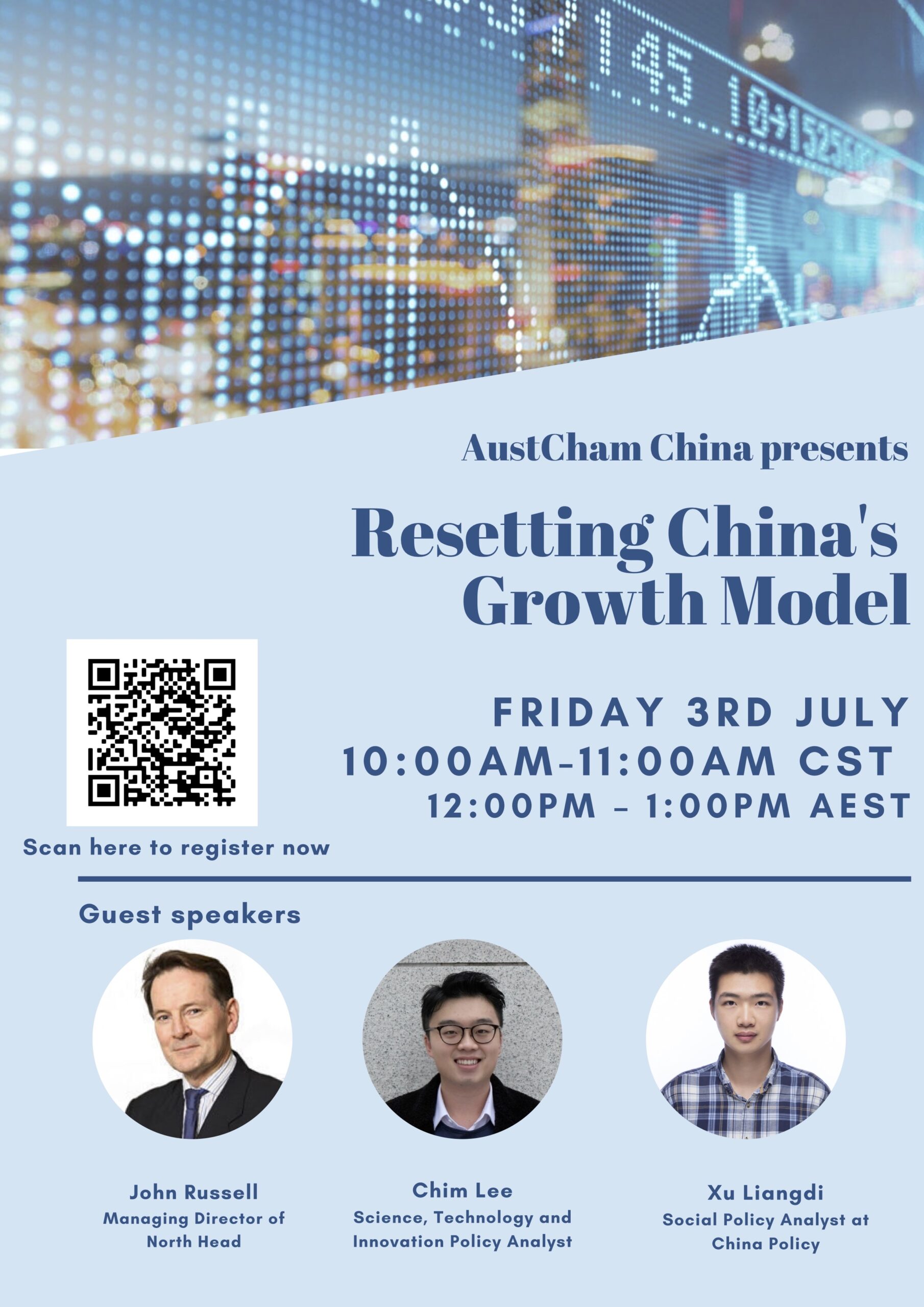 Online Briefing: Friday 3 July 2020
If you were unable to make the session, or would like to re-watch it, please click [here].
Today's Webinar focused on analysing China's shift towards a social policy driven growth model and how opportunities for foreign business and investment in China remain abundant, despite its shift away from export reliance towards domestic consumption.
A panel including: John Russell (Managing Director, North Head); Chim Lee (Science, Technology and innovation Policy Analyst at China Policy); and Xu Liang Di (Social Policy Analyst at China Policy) discussed new drivers for economic growth in China and any potential uncertainties for Australian businesses in the next few years.
General Economic Outlook
The absence of an explicit GDP target in the Government's policy objectives this year (the first time since 2002) was a significant indicator of China's economic trajectory for the next few years.
Focus on social oriented goals such as poverty alleviation, securing livelihoods and stabilising employment demonstrates that China is looking to invigorate domestic consumption to address income, education and healthcare inequality.
A movement away from export reliance does not mean less business and investment opportunities.
IMF estimates suggest that China will continue positive growth of 1 per cent this year and rebound to 8.4 per cent in 2021 while the US and EU could experience large negative growth.
With a fiscal stimulus package of AUD 1.8 trillion aimed at infrastructure provisions and industry innovation as well as a AUD 540 billion relief package, there is an opportunity for foreign businesses – particularly micro and small and medium enterprises (SME's) – to diversify and capitalise on emerging industries.
Key Economic Opportunities
E-commerce.

105 import pilot cities currently
Covid-19 may act as a positive catalyst in this area to increase domestic demand
A great opportunity for foreign enterprises to enjoy GST and company income tax exemptions among other benefits.
Experience 68 per cent growth comparable to 2019.
Online healthcare and education services.

the outbreak of the virus fast-tracked the industry out of necessity.

This means that these industries have a lot of room for technological innovation as they are currently imperfect attempts to mirror pre-existing education and healthcare services

Given the Government's growth trajectory, this will definitely be a heavily supported industry in order to address its social goals.
Things to Consider
Push to increase domestic consumption and reinforce frameworks for local research and innovation is not a movement away from global markets but the creation of a "double-circulatory system", where the domestic and global are both separate and linked.
The panel concluded by attempting to ease concerns about the Australia-US-China trilateral relationship
All three countries are heavily economically linked and that this is not likely to change
However, Australia needs to be wary that agreements between China and the US will likely lead to import diversion, meaning that there might be less demand for Australian imports.
Event Overview:
Join AustCham China, in partnership with China Policy and North Head, for a webinar focusing on the Resetting of China's Growth Model, to be held Friday 3 July. Hear from speakers, John Russell, Managing Director, North Head; Chim Lee, Science, Technology and Innovation Policy Analyst at China Policy and Xu Liangdi, Social Policy Analyst at China Policy.
The webinar will analyse China's future trajectory, with a focus on the fields of Science and Innovation, Healthcare and Education. Since early May China has embarqued on a quantum change of its strategy for macroeconomic growth. For over four decades, GDP growth was the predominant metric. Emphasis has now shifted to stabilizing employment, securing basic livelihoods, poverty alleviation, and risk prevention amid the COVID-situation, while coping with elevated external uncertainty.
This webinar will explore what will be the new drivers for economic growth in China and the implications for Australian business for the remainder of 2020 and 2021, leading into the 14th Five Year Plan.
Date: Friday July 3rd
Time: 10:00AM China Standard Time / 12:00PM AEST
Speakers:
John Russell, Managing Director, North Head
Chim Lee, Science, Technology and Innovation Policy Analyst at China Policy
Xu Liangdi, Social Policy Analyst at China Policy