Panel Discussion on Australia-China relations
10-29-20 @ 3:00 pm

-

4:00 pm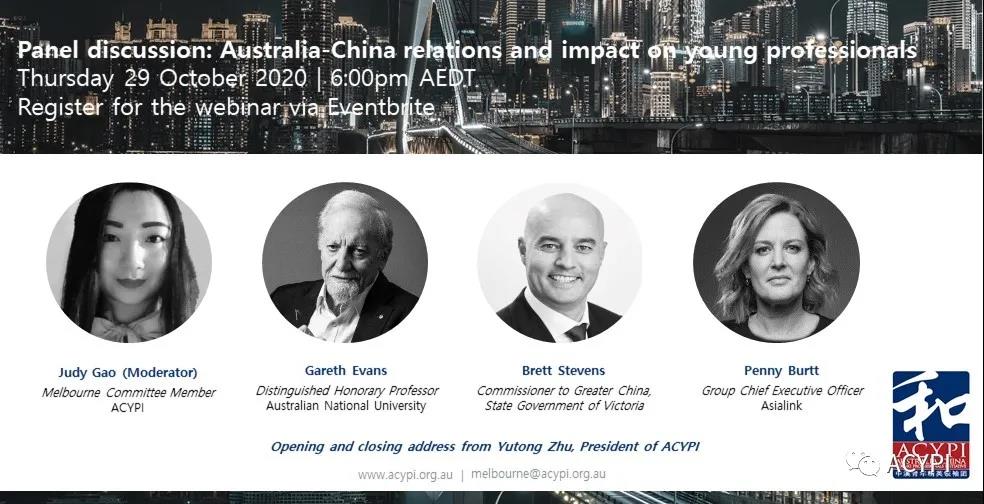 ​
The Australia-China relationship has been fraught with tension in recent years. What future lies ahead the two countries and what can young people do in this time of uncertainty? Please join Australia China Young Professional Initative and supported by AustCham China, on Thursday 29 October in conversation with our three distinguished guests, Gareth Evans, Brett Stevens, and Penny Burtt to discuss the current affairs impacting Australia-China relations.
Gareth Evans is Distinguished Honorary Professor at the ANU, where he was Chancellor from 2010 to 2019. He was a member of the Australian Parliament for twenty-one years, and a Cabinet Minister for thirteen, including as Foreign Minister from 1988-96. After leaving politics he was President of the Brussels-based International Crisis Group from 2000-09. He co-chaired the International Commission on Intervention and State Sovereignty (2000-2001).
加雷斯·埃文斯(Gareth Evans)是澳大利亚国立大学(ANU)的荣誉教授,并于2010年至2019年期间担任名誉校长。他曾于1988至1996年担任澳大利亚外交部长。
Brett Stevens is the Victorian Government's Commissioner to China and is responsible for advancing Victoria's trade and investment interest across the region. He was previously appointed as the Premier of Victoria's representative in Southeast Asia in 2013 and has over 25 years of international trade experience in the region, across both the public and private sector.
布雷特·史蒂文斯(Brett Stevens)是维多利亚州政府现任驻华专员,负责推动维多利亚州在华贸易和投资。他于2013年至2020年任维多利亚州驻东南亚专员,在该地区的公共和私营部门拥有超过25年的国际贸易经验。
Penny Burtt has more than 25 years of experience in diplomacy, trade and investment, international business, and consulting at the most senior levels across four continents. She is currently the Group CEO of Asialink, Australia's leading centre for Asia engagement. In a career spanning the business, government, and nonprofit sectors, she has held senior leadership positions in the Asia-Pacific with global multinationals Visa Inc, the digital payments company, and consulting firm McKinsey & Company. A former senior diplomat, Penny represented Australia in Asia and the United Nations and as an Asia advisor to the Minister for Foreign Affairs.
潘妮·伯特(Penny Burtt)目前是澳大利亚Asialink集团首席执行官。她曾在Visa和麦肯锡担任亚太地区的高级领导职务。作为高级外交官,她曾在亚洲和联合国代表澳大利亚,并担任外交部长的亚洲顾问。
Date: Thursday 29 October 2020
Time: 6pm to 7pm (AEDT) 3pm to 4pm (Beijing)
Platform: Zoom (a link will be sent to each of the registrants closer to the date)
RSVP: click "Register"
日期:2020年10月29日 周四
时间:墨尔本时间 6pm 至 7pm;北京时间 3pm 至 4pm
平台:Zoom(会议链接会稍后发送至注册邮箱)
注册:点击Register

The Australia-China young professionals initiative (ACYPI) is the premier platform for young professionals to engage with the Australia-China relationship. Through regular events held across Australia and China, we seek to:
Connect young professionals to significant commercial, political and academic leaders.
Provide professional networking opportunities across sectors.
Offer career development training seminars and workshops.
Since ACYPI's establishment in December 2010, thousands of young professionals have attended ACYPI events across both Australia and China. We now have over 3,000 members actively engaged across 6 City Chapters in Australia and 4 City Chapters in China. ACYPI is the single largest young professional organisation in the Australia-China space.
Through our initiatives, we aim to promote people-to-people exchange and cultivate cross-cultural literacy among young professionals in Australia and China to help their decision-making as future leaders across sectors.