Event Recap | Australia-UK Higher Education Seminar
10-25-19 @ 4:30 pm

-

6:30 pm

¥100 – ¥300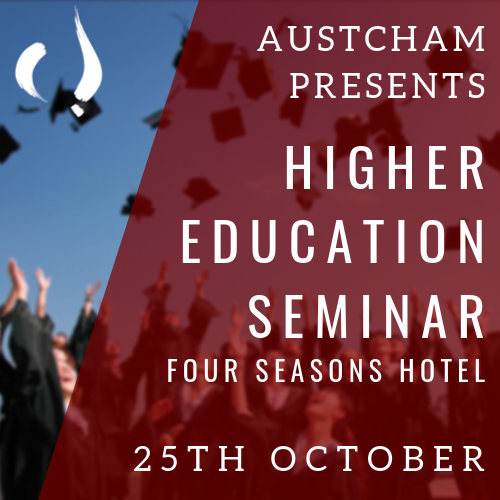 On Friday evening, AustCham collaborated with BritCham to host Michael Wells and Professor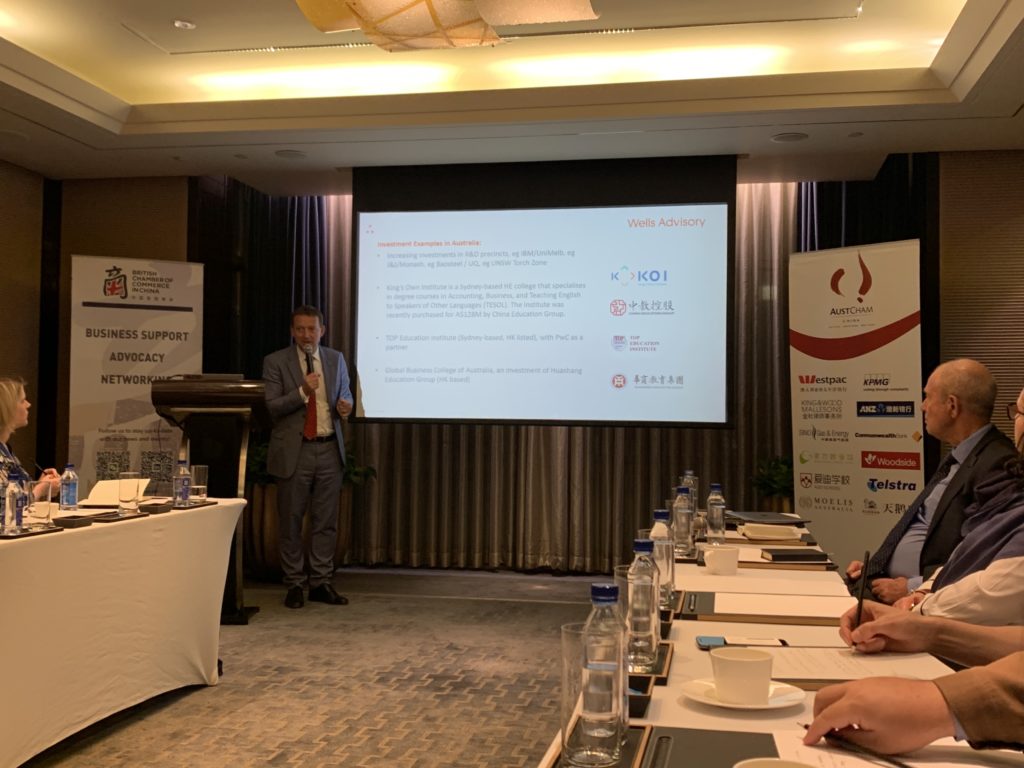 Roger King from Wells Advisory to address our guests on the differing structures, sizes, and areas of growth in the education sectors of the two countries.
In Australia, the re-capping of the Commonwealth-Supported Places in 2018 has developed an urgency for Australian universities to attract international students. In addition, the regulation for face-to-face classes has pulled some demand away from Australian higher education institutions. Despite these factors, and although the size of the UK education sector is larger, the growth of the Australian education sector has been moving at a faster rate of 3%, compared to the UK's 2%.
Meanwhile, changes in the UK have significantly expanded the possibilities for cross-border education. Recently, international students have been offered two-year work visas upongraduation, and private institutions have enjoyed greater freedoms through a probationary system that encourages newcomers. Demand has been largely concentrated in the south-east of England, particularly in London, with projected growth stemming from the rising immigrant population.
We would like to thank both Michael Wells and Professor Roger King for their time and their insights.
Stay connected on our WeChat and website for upcoming education events.
Please see below for original event details:
———————————
Hosted in conjunction with BritCham China, AustCham China is delighted to invite members and non-members to a fascinating seminar by Michael Wells, Founding Director of Wells Advisory and Professor Roger King, a current Visiting Professor at the University of Bath and Director & Chair of Wells Advisory UK. The topic of the seminar will be comparative developments in Australian and UK higher education, international relations and investments in these two major systems. The seminar will be followed by a combined Aussie-British Drinks.
Please arrive at 4:30pm for registration.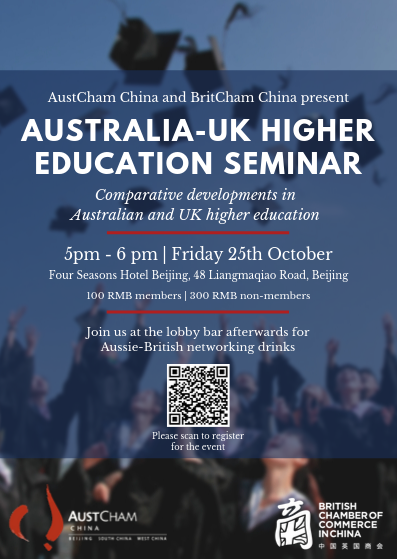 Michael Wells
Director & Founder, Wells Advisory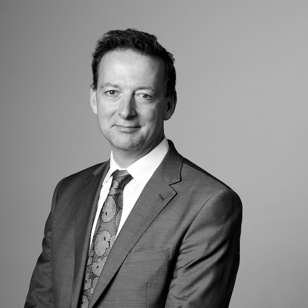 Mr Michael Wells, Founding Director, is one of the leading advisors on higher education in Australia and internationally. He advises universities, independent higher education providers (iHEPs) and investors on market entry and development, partnership strategies, regulation and quality. Over 20 years, Michael has been a management consultant to a significant number of education institutions, has held senior executive positions in planning/quality/finance/risk for Australia's leading university, and has been a founding Commissioner of Australia's higher education regulator TEQSA.
Michael has consulted to organisations in Australia, New Zealand, the United Kingdom, Ireland, the United States, Chile, and Hong Kong. He has founded and built one of the leading firms of higher education advisors (www.wellsadvisory.co ). Michael specialises in aligning commercial / market considerations with the academic mission and culture of higher education institutions. Michael has deep understanding of structures, culture, and organisational frameworks that operate in higher education. He brings insights for his clients in terms of governance, strategy, regulation and operational excellence, built from practical experience and a keen interest in performance measures, markets, and quality.
Prior to establishing Wells Advisory in 2016, Michael was a full-time Commissioner at the Tertiary Education Quality and Standards Agency (TEQSA) from 2011-2015, where he designed and led the establishment of a world-leading risk framework, national data collection and streamlined approach to regulating standards. He was Executive Director of Finance and Planning at Australia's top ranked university, The University of Melbourne from 2005-2011 where he was a member of the Senior Executive Committee and Academic Board, and led university-wide planning and the annual US$1.1b university operating budget process, capital stage gating, strategic risk program and quality audits. Prior to the University of Melbourne, Michael's career focussed on legal practice, strategy consulting and brand valuation. Michael is admitted to practice as a barrister and solicitor in Australia and is a member of the Market Research Society of Australia.
Michael holds the following degrees: MMktg (Melbourne Business School), Bachelor of Laws, Bachelor of Arts (Unimelb)
Professor Roger King
Director & Chair, Wells Advisory UK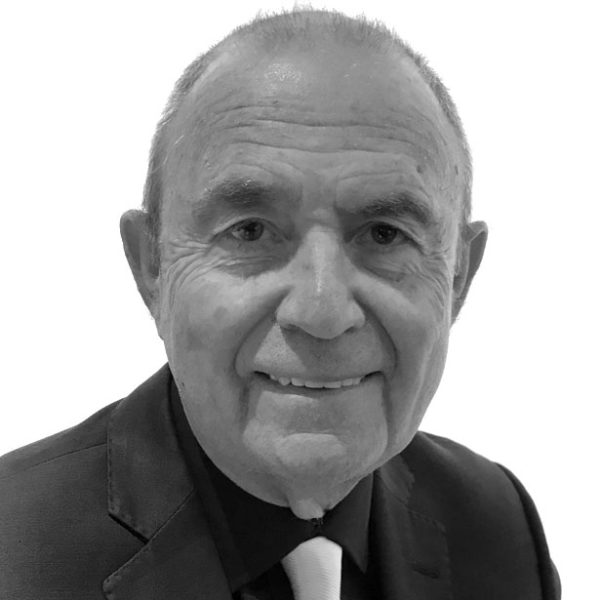 Vice Chancellor, University of Humberside (UK) 1989-1996, then Founding Vice Chancellor of the University of Lincoln (1996-2001), and founding Chair of the Institute for Learning and Teaching in Higher Education (now part of HE Academy), 1998-2001. Visiting Professor, Open University (UK) 2009-14. Currently Visiting Professor at the University of Bath (since 2009), and Research Associate at the London School of Economics and Political Science (Centre for the Analysis of Risk and Regulation) since 2004. Member of the independent, cross-political party Higher Education Commission (parliamentary based), including co-author of its Report Regulating Higher Education (2013). Chairman of the Board of Governors of the UK College of Business and Computing (UKCBC), London and Dubai.
Author of various books and articles on higher education policy, governance and regulation, and globalization and higher education (most recent, Research Handbook on the Politics of Higher Education, with Hamish Coates (Tsinghua University, Beijing) and Brendan Cantwell (Michigan State University, USA), Edward Elgar, July 2018.
Recent Research Projects for Quality Assurance Agency (UK) on Data and Risk-based Regulation; and on Social Media and the Wisdom of Students (both published 2018).
Convenor of Higher Education Governance and Regulation Network, London School of Economics and Political Science.
In 2018 undertaken higher education consultancies in Latvia, Canada, and China.
Distinguished Visitor, Tsinghua University, Beijing, July 2018. Visiting Professor at Queensland Universities (variously 2002-2017): University of Queensland, QUT, Griffith and University of the Sunshine Coast.
Board member of the British Council's Committee on Higher Education, Association of Commonwealth Universities, and Committee of Vice Chancellors and Principals (now Universities UK) when Vice Chancellor.
Director and Chair, Wells Advisory UK
Roger holds the following qualifications: D.Univ (Lincoln), M.Soc Sc (Birmingham), B.Sc Hons Economics (London)
Event Details
Date: Friday 25th October 2019
Venue: Four Seasons Hotel Beijing, 48 Liangmaqiao Road, Beijing, 10012
Time: 4:30pm Registration | 5:00pm – 6:00pm Seminar
Price: 100 RMB Members | 300 RMB Non Members