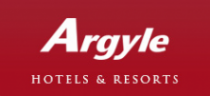 Argyle Hotel Group was established in Australia to specialise in hotel management related services, including but not limited to hotel management, resort management and hotel pre-opening management.
Argyle Hotel Group has a mature operational management mechanism, and a highly qualified management team. Argyle Hotel Group comprises six distinct brands: Argyle Grand Hotel, Argyle Resort, Argyle Hotel, Ausotel, Argyle Boutique Hotel and Metro Hotel. Our suite of brands covers each segment from 3 star to 5 star ratings.
Argyle Hotel Group currently has 45 member hotels in China with an asset value of 1.8 billion USD.
Categories: Hospitality & Tourism, North China
Suite 2012, Fullink Plaza, No. 18 Jianguomen Waidajie, Chaoyang District

Beijing,
Get Directions
Contact Name: Kevin Zhang
Position: Managing Director
Industry: Events & Hospitality
Working Group: SME